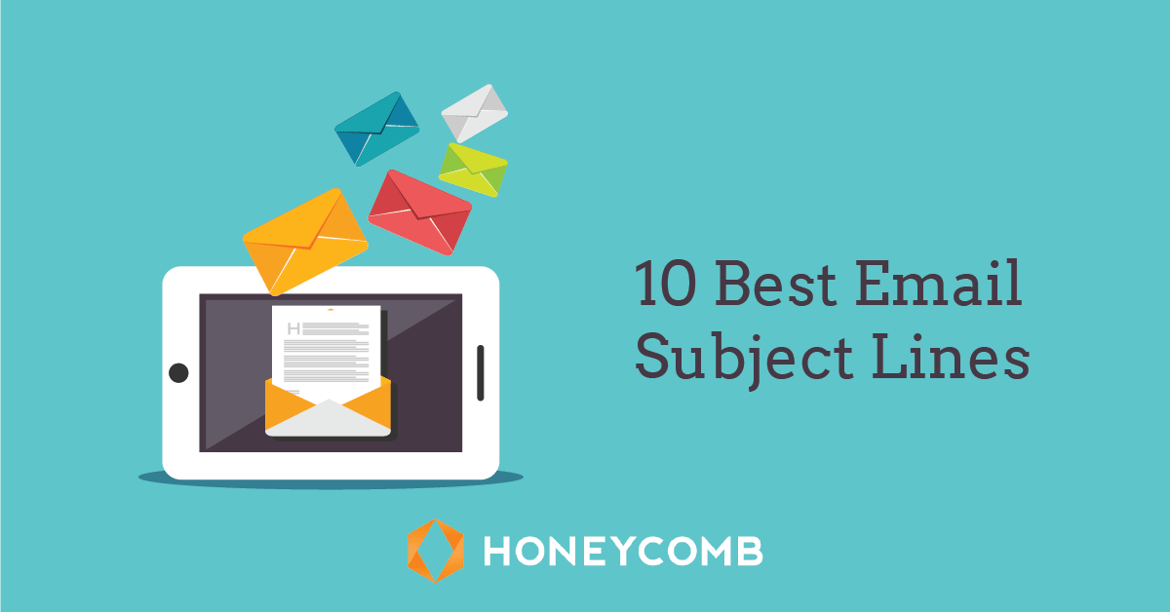 You might be thinking, nobody reads email anymore. Or you might be thinking that email is an obsolete way of marketing. Well let these stats change your mind:
According to a study by ExactTarget, 77% of consumers prefer to receive permission-based marketing communications through email.
64% of consumers say that they open an email because of a subject line (Salesforce).
Lead nurturing emails generate 50% more sales (Entrepreneur.com).
And 44% of email recipients made at least one purchase last year based on a promotional email (Convince & Convert).
Fine tuning your email campaign to reach prospects, leads, and current customers will only bring you more qualified business. And that's something we all want!
1. Specific benefit
In a succinct and catchy way, tell the reader about a specific benefit that might interest them. What types of benefits do they need to run their business? Think about these and then craft an email subject that quickly informs them about what you're sharing. Here's a couple of examples that do just that: "Two words: cheap traffic" or "Our Facebook ads cheat sheet".
2. Use statistics
Business folks love numbers - so use them! A statistic in your subject line catches their eye and piques their interest about the topic and gets them thinking about the reasons for a certain stat. Something like "75% percent of customers had an increase in ROI" or "128% ROI on your Twitter ads" will definitely get people's attention.
3. Curiosity
Ask a question. It really doesn't matter whether or not your prospects know the answer; what you want to provide in the body of your email is an answer that helps them understand the issue better, and possibly shows your company as part of that solution. Two good examples are "Want to see our email stats?" and "Will the Facebook change affect you?".
4. Sense of urgency
Create that last minute sense of urgency. Your reader should look at the subject line and feel a hint of desperation if they don't open and read your email. "THIS disappears at midnight" or "50% off sale ends TODAY!" will definitely prompt some readers to open, instead of delete, your message.
5. Thank you!
Pretty simple. You should send an email to your current customers and thank them for their current business. "Our gift to you" or just "Thank you [customer name]" can go a long way. Set yourself apart from the crowd and don't send this email blast out during the holidays when your message might get lost in the shuffle of seasonal greetings. Instead, choose a non-peak time and surprise your contacts. It's a good way to show your appreciation and highlight some cool things that are happening at your company. Don't forget to include some social sharing buttons so that your customers can forward it along to their network.
6. Feel the pain
Make your prospects a little uncomfortable and make them feel the pain. Create some doubt in your prospect's mind about their current business strategies and processes. Then use your email message to talk about what happens when that situation is left "untreated". Subject lines like "Don't make these SEO mistakes!" or "Are you using landing pages the right way?" pushes those pain points, creates some doubt in their mind, and allows your prospects to see you as a possible solution to this problem.
7. Offer a list
People love lists! So give them some. Try "Top 5 customer survey questions" or "8 marketing ideas for software startups" and provide your leads and customers with some tools that they can use immediately after reading your email. Giving them a handy checklist will make them feel productive, which builds your reputation as a trusted resource and they'll be more likely to open future emails from you.
8. Teach me something
Add some value to your prospect's day and offer to teach them a new skill or shed some light on an industry issue. Everyone likes learning about something that will help their business, so offer some insight into topics that your prospects want to focus on in their companies. Something like "How to optimize your landing pages" or "How to improve office morale" provides a quick lesson on a meaningful topic.
9. Action verbs
Just tell your prospects what to do! Sometimes people need to be led, and a simple action verb in your subject line can make all the difference. "Get this e-book" or "Read now for our latest offer" prompts the reader to do something, and this little nudge might be all they need.
10. Inside scoop
Everyone wants to feel special and like they're getting access to some private info, so give some to your readers. Plan accordingly and use this campaign with highly qualified leads and current customers so that they really feel like they are getting something that other customers don't have access to - kind of like a VIP treatment. Use phrases like "We've designed this exclusive offer for you [lead's name]" or "Open now to become a member of our VIP club". And definitley deliver on your promise! The people who are opening these emails want to feel privy to some information and offer that nobody else does, so use this sparingly!
Now that you have some useful ideas on how to craft the best email subject lines, integrate these into your marketing campaign and watch your open rate soar!