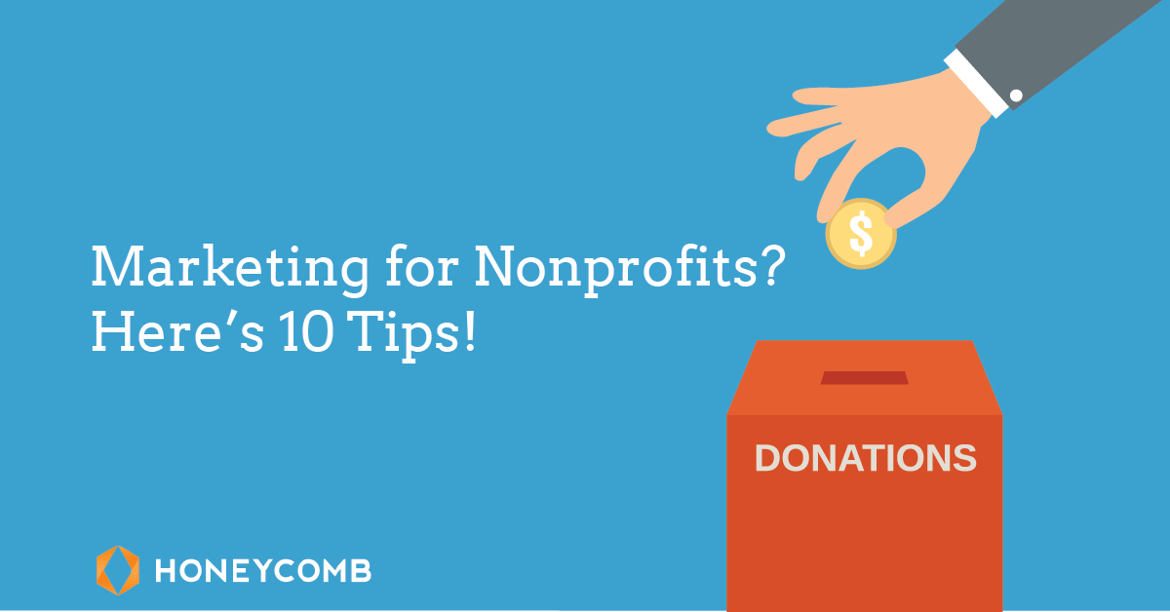 If you're in marketing for nonprofits, then you know it's rare to have an ample budget to get everything done. It can sometimes seem as though your campaign has to keep getting revised due to budget restraints and that you don't have enough funding to launch a complete marketing campaign. But you can still reach quite a few potential sponsors and donors if you get creative and use some of our tips below!
1. Understand your donors
One of the primary marketing techniques that you should be using to maximize every dollar is understanding what makes your donors tick. Make sure you understand why your donors give their money and resources; is it that they identify with your cause on a personal level, or do they need a tax write-off? Knowing what motivates your donors to give will help you launch marketing campaigns around their needs and timelines, not yours.
2. Leverage your sidebar
A quick and cost effective way to reach out to more people in your marketing efforts is to use your sidebar. Of course, your overall page should be artfully designed with content that will excite and inform supporters, but even a small sidebar can have a big impact. Use your sidebar to highlight impact stats, suggest giving levels, or show some animation related to your cause.
3. Ramp up your social media
You probably already have social media accounts for your nonprofit, but if you don't, now is the time to do it! Statistics show that over 80% of small businesses use social media to grow their business and market to potential leads. So whether you get on Facebook, Twitter, or any of the other platforms out there, make sure your nonprofit is taking advantage of this powerful marketing tool.
4. Have donors participate
Engage your donors and have them speak at events, share their own stories in a monthly newsletter, or participate at sponsorship rallies where they can market on your behalf. Donors are usually thrilled when they are asked to participate in campaigns where they can speak with other people who feel just as strongly about your cause!
5. Give your recipients a voice
And what about your recipients? They can be a meaningful part of your marketing efforts, too! Have them write a thank you note to your donors and spread it around on social media, or even have them write a personal story for your newsletter. This personal touch is an effective marketing tool because it lets possible donors and sponsor see how their funds are being used, and often makes them want to keep donating!
6. Psych 'Em Out
Studies from Kiva.org show that donors are more likely to give at the end of a campaign when you are closer to your fundraising goal. The psychology behind it is that donors have a greater feeling of satisfaction when they help your campaign surpass its goal, rather than being a part of the few that get it off the ground at the beginning. To build the best momentum for your campaign, split it into two and market to your strongest supporters at the beginning, and then launch a more robust campaign to the public as you get closer to reaching your target.
7. Know your demographic
If you're new to social media, figure out your demographic and what sites they're on. For example, if you want to target men, it's good to be on LinkedIn, which is dominated by this demographic. Or if you want to target women, one of the more popular social sites for this demographic is Pinterest. And it's good to know when your target donors are online; do they use Facebook? If so, you want to be posting on Fridays, which is a heavy traffic day for this social site.
8. Use your volunteers
It's no surprise that nonprofits have to stretch every marketing dollar, in fact every dollar, to the max. So think of ways you can use your volunteers to help out with tasks and jobs that you might otherwise have to do in-house. Do you have any volunteers who are great photographers or videographers who can capture donors, sponsors, and recipients at your events? Is there a social media expert that can beef up your Instagram profile? Whatever your needs are, don't overlook this untapped resource for marketing your cause.
9. Write a blog
Just like the one you're reading now, use your blog to share valuable information about your nonprofit, trends in giving, and any other information that you think your donors might be interested in seeing. Blogs are a cost-effective way to market your organization and your readers can easily pass this information along to their colleagues and friends if you add some social sharing buttons to each post. If you're not convinced, read our 10 stats that prove the value of having a blog on your webiste and you just might change your mind!
10. Get Visual
Did you know that over 90% of mobile video viewers share the content with other viewers? Wow! Have one of your volunteers do a cool video about your nonprofit. Or even have your recipients send in videos of their success stories and do a contest for the best video. Whatever you do, get visual and get some video content up on your site and on your social media so everyone can see the great work you are doing!