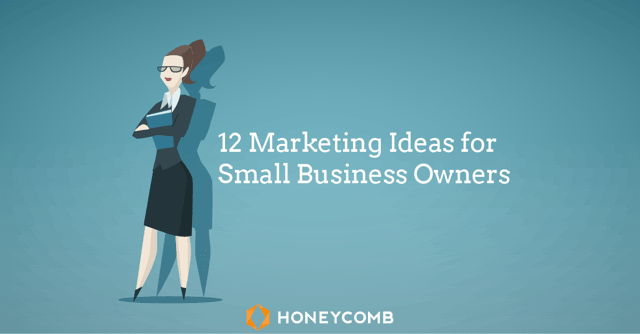 As a small business, marketing budgets are always tight. But it's a critical part of your growing your business and getting new customers. You don't have to break the bank and spend every dollar on expensive campaigns: use some of our marketing ideas for small business owners to get the word out!
1. Infographics
Infographics are powerful marketing tools and stats show that people are 21% more likely to share an infographic. Why? Well they're visual eye candy, they're easy to read(if done right), and people love to share them, so they're a great way to drive up site traffic and links. You can hire an intern designer to make you an arsenal of cool infographics or you can make your own on the cheap if you have the time and don't mind a bit of a challenge.
2. Eco-friendly
You know the phrase, "reduce, reuse, recycle"? Well it applies to your blog content, too. Recycle and refresh your old content into new creations. Turn your webinar into a series of video tutorials or transform a collection of blog posts into an ebook. As your current readers begin to share, chances are there will be a ton of people who never even saw your old stuff, so it'll be new content for a bulk of your audience. What - you don't have a blog? Well take a look at 10 reasons why you should!
3. Social butterfly
Get out there and join the social media universe! It's one of the most cost-effective ways to use your precious marketing dollars. For one, readers can easily share your content, news, and product information with their networks. And secondly, as more people get access to smart phones and technology, the number of visits to your social channels will only increase. Did you know that over 80% of Americans are on social media? Don't miss out on marketing to a huge group of people!

4. Customer referrals
If you've got some happy and satisfied customers, provide them with an incentive to bring you some more business. Reach out to some of your best customers and ask them for names of people in their network who could benefit from your service. Or provide a discount to current customers who refer you to qualified leads. Whatever you decide to use as an incentive, your current customer database is more likely to respond with this little nudge.
5. Get recognized
Are there industry awards and certifications that will help you stand out from your peers? If so, apply for them so that you can promote that info on your website, add it to the bottom of busines cards, or put it on your sales brochures. Adding this recognition will set you apart from the competition and give you an edge when vying for business.
6. We've got a winner!
Launch a contest and build up some media hype with potential customers. You can do this online through your social media channels or partner with another local business to do a raffle or drawing. The gift doesn't have to be extravagant; maybe it's part of your service for free, or something from your new product line. People love winning things, so use this to your advantage.
7. Join affiliate groups
Get out there and network with other businesses in your industry. This is a good way for small businesses to market their product since it puts you in touch with people who might be able to refer you business. Once you get to know more people and establish meaningful relationships, you can enjoy the added business from these groups.
8. SEO
Search engine optimization is an effective process that increases your website or a web page's visibility in the unpaid (organic) search engines. When you optimize your content, your business page will rank for search terms that your potential customers are looking for.
9. Start a Meetup
Are you getting out there and attending networking events and are finding that there's nothing that really suits your fancy? Well try starting your own networking group! Use the popular MeetUp platform that has groups all over the world. Use your social media to promote your new group and watch your network grow!
10. Sponsor a non-profit
Check out the local non-profits in your area and consider sponsoring one that is aligned with your business. This is a good way for your company to build brand awarenes with a whole new set of potential customers that you might otherwise not reach. And it's just a good way to give back to the community.
11. Host an event
If you've got a great office, great! This should be easy for you, but don't let lack of space deter you. There's lots of coworking sites sprouting up all over, or consider partnering with another business and using their location. Whether it's a networking event, a seminar, or a holiday party, it's a chance for you to get your name out there and promote your business with new people.
12. Listen up!
Reach new prospects with a podcast. Create a list of topics, contact some thought leaders in your industry, and record some interesting content that you can share with your customers and prospects. Encourage people to share it on social media or send it out in an email newsletter.