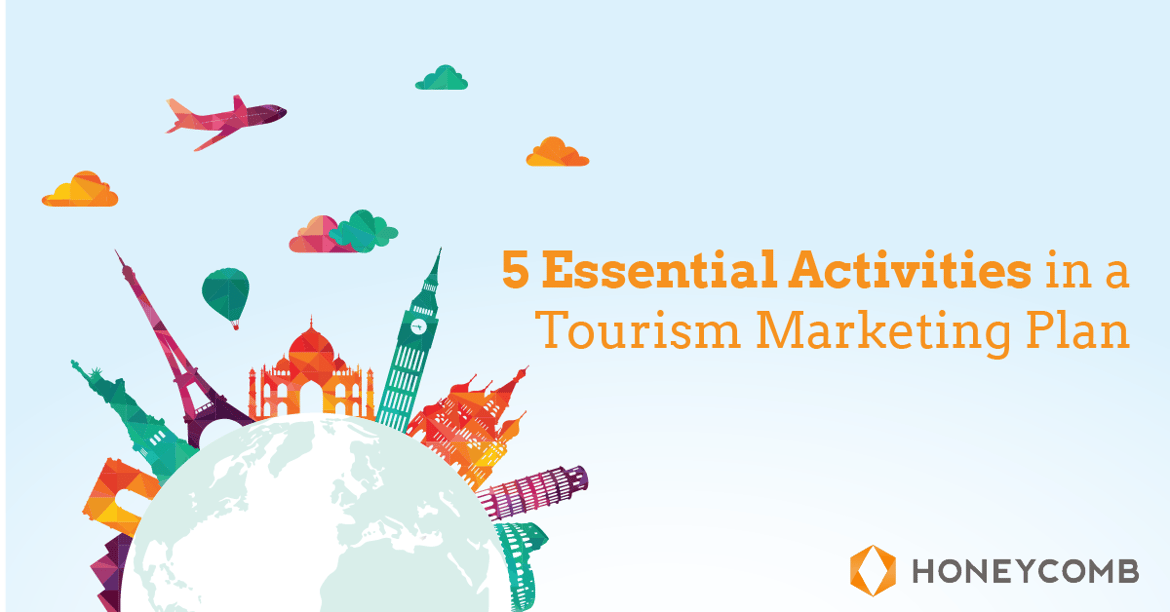 Nothing is more rewarding for a tour company than seeing eager visitors from all over the world enjoy the sights while creating memories with family and friends. So how do you attract more of these happy guests and encourage them to come and visit when they decide to use that precious vacation time? Putting together a tourism marketing plan doesn't have to be hard; start with these five steps and build a marketing campaign that will bring your more visitors and revenue!
1. Blog Consistently
If you're not already convinced on the power of having a blog, how about this statistic from Hubspot that shows marketers who have a blog are 13x more likely to receive a positive ROI. And who doesn't want that? A blog is a simple way to connect with potential customers and have them learn about your destination and your company, while building a brand voice. Of course, you could just share someone else's blog on your social media, but it's much more powerful to create your own. Data from Social Media Examiner shows that 94% of B2C marketers are using original written content instead of just curating someone else's content, making it that much more impactful and SEO-friendly when blogging and sharing information on your site. Blogging doesn't have to be hard; brainstorm some ideas and then get to writing and publishing with one of the user-friendly platforms like Hubspot or Wordpress to build your page. Keep it up by sticking to a schedule and share your valuable information with the world!
2. Share It!
Because you're attracting people from all over the world, social media is going to be a big part of your marketing campaign. If you don't have them already, create Facebook, Instagram, and Twitter accounts to spread the word about your tour company and all that your location has to offer. Share your blog posts, pictures from your photography team, and any promotions that your company is offering. And make sure you are including images and other media in your social media feed. Did you know that Tweets with pictures receive 150% more retweets than those without images? Wow! Get a good photographer on your team and start sorting through those pictures to share all of the fun that your guests will be having when they join your tour!
3. Star Power
Those 5-star ratings are going to be your best friend when it comes to bringing in new business. But what good does it do if nobody can see the great feedback that previous guests have given about your tour and the awesome experience they've had? Make sure that your rating system is easy to use and interfaces directly with your social media channels and your website. And make it easy for guests to leave feedback; if it's too complicated, they'll click away and the positive review will be lost in cyberspace forever.
4. Convert Those Leads
It's great that people are reading about all of the amazing excursions that your company offers and the breathtaking sights that they'll see when they do actually visit, but how do you ensure that these leads actually turn into your customers and not a competitor's when they finally arrive for their vacation? This is where you'll need to build some "call to action" links in your blog so that you can capture the emails of these potential guests before they arrive at your destination. If you capture their email with a call to action for a helpful 7-day itinerary or a handy packing list, you can nurture them along the marketing funnel with other emails until they are ready to book their tour with you.
5. What's Your Brand?
You're probably not the only tour company in (fill in exotic/urban/remote locale here), so you're going to have to differentiate yourself from the rest of your competitors in the neighborhood. Think about what sets you apart from the other tour companies in the area; does your company have a special connection with the place, are your tour guides trained with special knowledge, or is it something else that adds that special touch that your guests won't get anywhere else. Whatever it is, make sure your message is consistent across all channels so that the customer knows what they're getting and will be excited to join you and your company while they're on vacation.
So what are you waiting for? Start your year off by taking a good look at your tourism marketing plan and fill in the holes with these helpful tips. Then sit back and watch the guests arrive!