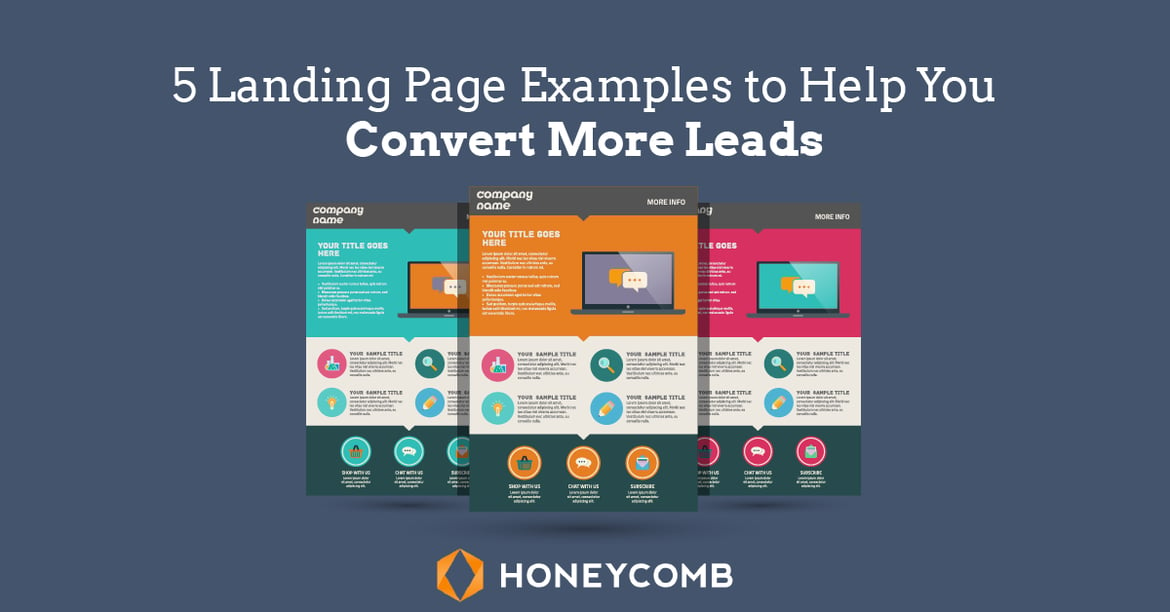 If you're looking to improve your ROI with great landing pages, it's helpful to know what makes a good landing page and see some examples of ones that actually work. At this point, you've spent some time developing a page that has a form to capture your reader's email and key information in exchange for some valuable piece of content you've provided. But is your landing page capturing tons of lower quality leads, or a few high quality submissions? Depending on what your goals are, you'll want to fine tune your landing pages to get the kind of leads you want!
1. Honeycomb
Of course, we're biased, but this first example is a great one because it combines a clean layout that tells the reader exactly what they'll be getting, while highlighting our Hubspot certification so that potential leads know we're qualified to do quality work. When designing your own landing pages, stay away from having too much extraneous info floating around to distract a potential lead. Keep it clean and add any industry certifications or qualifications that you think will help validate your offer and website.
2. P2Life
This is a good example of a landing page because it speaks to the pain points of your buyer personas. Stay away from using fancy marketing jargon and talk directly to your prospect. Tell them what they're getting. The P2Life landing page does just this with the opening statement: "Balancing your meals and busy schedule can be tough." You're instantly connecting with your buyers by empathizing with how they feel and shows them that you understand their plight. When drafting effective landing pages, always check to see if they are relevant to your buyer personas.
3. Viance Nutrition
People love pictures, so if you want an effective landing page, have some visuals of what your readers will be getting when they download your content offer. Statistics show that over half of people respond better to content with visual information than just plain text. So maximize the effectiveness of your landing page with some great shots of either the content offer, or some visuals that help them better connect with your brand.
4. Dolphins and You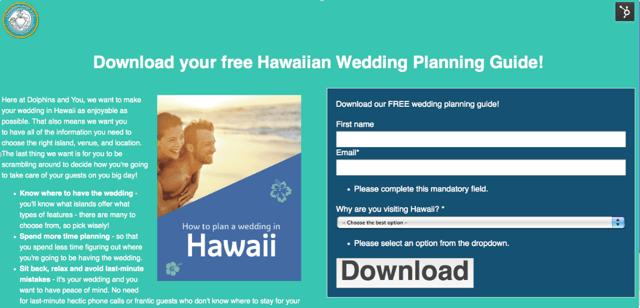 Use color! This Dolphins and You wedding planning guide has the information layed out on a pretty aqua that not only reflects their brand, but is a cool, calming color that helps brides-to-be envision their wedding destination in Hawaii. Think about your brand and the colors that resonate with it and then integrate them into the design of the landing page. And stay consistent with the rest of your web pages; you don't want your readers to suffer a shock when they land on your page!
5. H.Bloom
Sometimes, you've just got to stop and admire a landing page for being beautiful. Using high-resolution photography and lots of white space, H.BLOOM's landing page is a pleasure to look at. Besides its beauty, the page has some great conversions elements: an above-the-fold form, clear and concise description of what'll happen when you fill out the form, and even the bright orange "Submit" button. The only thing we'd change up? The copy on the "Submit" button -- that could be more specific to the offer at hand.