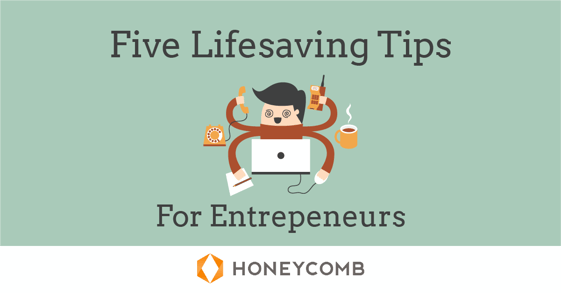 Being an entrepreneur is amazingly fun and amazingly scary at the same time. What other type of job gives you the ability to wheel and deal up new business and innovative ideas while simultaneously keep you up at night wondering if you'll have enough to pay the bills?
It takes a certain type of person to be a successful entrepreneur. Unfortunately, most of these people aren't endowed with the gift of detail or efficiency. Most businesses are run with the entrepreneur treading water, never able to relax or take a step back. But to be truly scalable, a business needs to take the business owner out of the day-to-day process and have systems in place to efficiently deliver the service or product people are paying for.
At Honeycomb we've dedicated a lot of time and energy to create efficient systems and processes to streamline our agency. Why have we invested in creating systems? It allows us to dedicate more time to clients and take on more projects. Efficienty equals profit maximization.
What does efficiency mean for your business? Will it give you more time to strategize your next big move as a business? Will it improve your profitability? Will it make your business more scalable? Whatever it is, your business needs to look into these productivity tips for entrepreneurs.
1. Invest in Project Management Software
Project management software allows you to control the different tasks, assignments, files, conversations, and progress in one location. For entrepreneurs with small to mid sized teams there are a lot of fantastic options to choose from.
Our team at Honeycomb recommends Trello or Basecamp (we've used both). Both of these apps are cloud-based and extremely robust while still simplified in the user experience. You can use these project management tools in a way that works best for your business.
An project manager can create specific projects and assign team members to them. You can add specific files relevant to that project, like the scope of work or budget or timeline, and you can also include a client on the project. Basecamp has a great feature that allows project managers to determine what files, conversations, todos, etc. the client sees and doesn't see.
If your company revolves around fixed-time projects or one time customers, you can organize your software to be project focused. In Trello, you can create a start-to-finish structure, so as the project becomes closer to completion you can see tasks being completed by your team.
For example, when Honeycomb has a web design client we organize our Trello into major tasks on our timeline: Sitemap, Moodboarding, Wireframes, Full Design, Development, Testing, and Implementation. Each of these major tasks has subtasks underneath, which are assigned to different team members to complete.
2. Simplify Your Team's Communication
There are dozens of ways teams communicate internally and externally - this makes it hard to stay truly connected and efficient. Entrepreneurs have limited resources and talent, therefore it's important to find a way for your team to communicate in the most efficient, simplified manner possible so your team can reach its goals.
Honeycomb only uses one communication platform. We don't email, Skype, ping, iMessage, Gchat, etc. Our only communication tool is Slack. Slack allows teams to seamlessly communicate in one platform while separating conversations based on topics such as project, client, department, or goal.
For example, Honeycomb has Slack channels for each of our clients' inbound marketing communication. We also have channels dedicated for our internal departments like accounting, marketing, sales, and web development. Slack gives us the ability to communicate in one platform that separates our conversations while giving us the ability to search past conversations, old files, and more.
3. Delegate Your Least Favorite Tasks
This is one of the hardest things for entrepreneurs to do: delegate. Why? For lots of successful business owners, starting from the ground up meant doing literally everything on your own. Can't afford a bookkeeper? Time to do your own accounting. Having a hard time finding a good copywriter? Write your own blogs.
Every piece of the business is done by the entrepreneur, but unfortunately, this simply isn't scalable. Most of our clients hire us because they've broken the $2-3 million revenue mark and it's not feasible for them to spend time handling their own marketing. They make more money by handing the keys over to us and then focusing on running their actual business. This is one of the most lifechanging productivity tips for entrepreneurs.
You'd be amazed at how many pieces of your business can be outsourced online (and for cheap!)
Here's a few that we personally use at Honeycomb (and a few more we love):
Bench.co - Bench does accounting. And they do it well. For only $135/mo they clean up your books while providing ongoing bookkeeping to help you keep a pulse on your business' profit margin. Want a free month of Bench on the house? Sign up for free here!
oDesk - oDesk has literally millions of freelancers who can help you run any part of your business. For Honeycomb, we like working with oDesk on data research and data mining. It's an extremely efficient way for your business to get work done at a great price. For example, if you run a law firm and want a competitive analysis of every other law firm's published hourly rate in your field of expertise, you can hire an oDesk freelancer to compile all of the information in a neat Excel spreadsheet while you sleep. Oftentimes it's for a fraction of what you would spend in your own time doing the same thing.
Red Butler - Red Butler is a virtual assistant service that helps small to mid size teams outsource time consuming, yet moderately difficult, tasks. Need someone to organize a business trip to visit clients in New York? Done. Find a good payroll solution for your growing technology firm? No problem. Red Butler charges by the hour and discounts your rate as your plan grows. The smallest plan is 5 hours a month for $35/hour, and the largest is 50 hours a month at $25/hour.
NotionTheory - Need an app built? For most business owners this crucial part of your business HAS to be outsourced. NotionTheory can get your app or site developed in 4 weeks exactly the way you want it. Extremely simple, and they have a great list of clients (the apps they create look killer). Instead of spending months with a developer who is charging you by the hour and bleeding you dry, NotionTheory has a solid price and solid schedule so you know exactly what you're getting.
4. Create a Transparent Working Environment
If you can't find your team's tasks, assignments, and daily/weekly/monthly/quarterly goals in just a few clicks, you're not creating a transparent enough environment. When your team works in an opaque digital surrounding, two things are inevitable.
First, you're going to naturally start micromanaging. When you don't know what's happening and what's getting completed, you'll start hounding employees for status updates and feedback. This is draining not only for you but for your team.
The second thing that happens is the team will fail to complete assignments. No matter how great your team is, if there isn't accountability, people will cut corners. Better to have an environment that both fosters independence AND accountability….i.e. transparency!
5. Know When to Unplug
There's a sense of pride in entrepreneurs who talk about "how damn busy I am". Most of us are superglued to our iPhones or laptops throughout our day slinging deals and connecting with clients. But studies have shown that getting away from devices can not only make you happier and healthier, but also much more productive.
When you get home from a day at the office, put your phone down. Don't check your email (in fact, maybe take it off your phone completely). At Honeycomb, we encourage our team members to relax at home because it makes us more productive (and happy) human beings in the office. No one on our team is required to have email on their personal device and weekends are off limits here.
Some entrepreneurs might freak out thinking about taking an entire 48 hours away from their business, but heres the truth: If your business is going to collapse because you decided to not check email for 48 hours, your business isn't really a business yet. It's just an idea with poor execution. The best entrepreneurs know how to create a successful business that isn't contingent on their email response time.
Want more productivity tips like this to optimize your business? We have a whole list of them, including tricks and hacks to get the most out of every productivity idea. Download it for free.