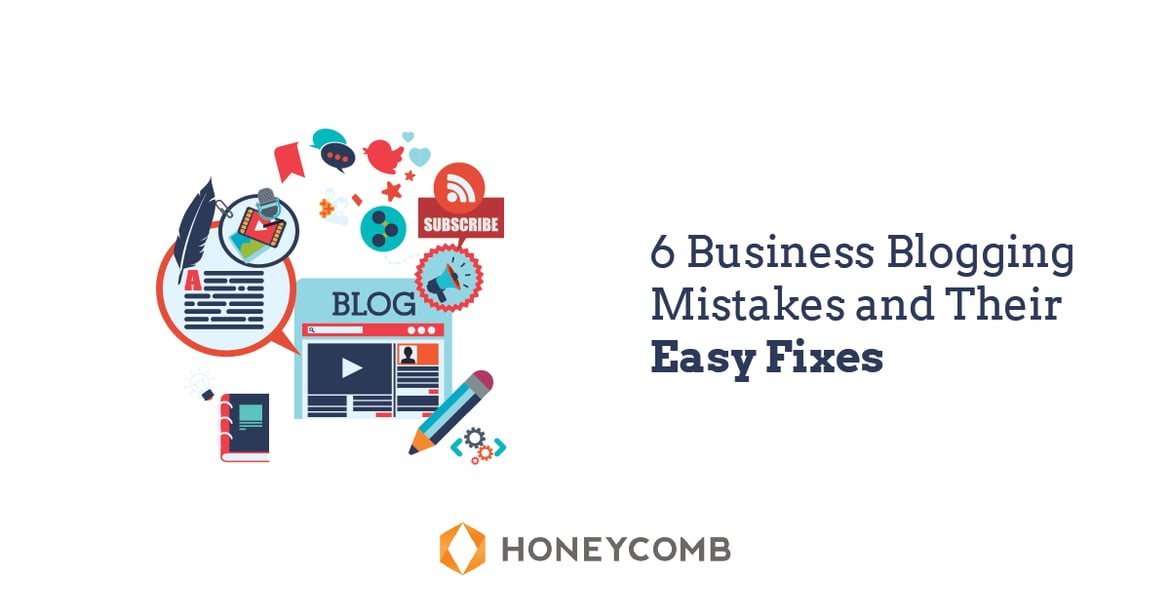 It takes a lot to start a blog, so congrats on getting yours started! Blogs are becoming an increasingly popular way for businesses of all sizes to spread the word about their company and relevant industry trends. And the data proves that your time and money spent blogging are well worth it. Studies from Hubspot show that B2B companies that blog only once or twice a month generate 70% more leads than those that don't blog at all. So even your smallest blogging efforts can make a positive impact on your business if you previously weren't blogging at all. But before you ramp up your efforts, take a look at these 6 business blogging mistakes and some quick fixes that will increase your inbound traffic.

1. Pushing product
Your temptation might be to turn your blog into a sales channel, but beware. This is the fastest way to turn off an audience, and lose possible leads and customers. Don't turn your blog into a constant commercial. Save the sales talk for when your readers become a qualified lead.
FIX: Share content that has an educational angle. This type of content has a much better chance of attracting readers and is more likely to be shared by these readers. You want to gain traction with your audience and establish your blog as a trusted source.
2. Having a separate site
If you are hosting your blog on a separate site from your company website, that's a big mistake. What happens when a reader wants to learn more information about your brand? It's highly unlikely that they'll go to a separate tab and enter your web address. Instead, they're more likely to click away to the next thing that's grabbing their attention.
FIX: Build your blog within your company website. Not only does this make browsing easier for your potential customers, it allows your corporate website to benefit from the search engine optimization advantages your blog will create.
3. Forgetting about SEO
Speaking of search engine optimization, you'd be doing your company a huge disservice by spending time and money on writing an awesome blog if nobody can find it. Don't make one of the top business blogging mistakes and forget about SEO. This mistake means you'll be missing out on a tremendous opportunity for your blog to increase your keyword rankings and grow your organic search traffic.
FIX: Develop an SEO strategy for your blog before you even start writing and identify the right keywords for your business. Then optimize your blog content with those keywords and watch your blog traffic increase!
4. Being inconsistent
Failure to commit to a schedule is another business blogging mistake that costs you money in the long run. Maybe you've started a blog and just got too busy to keep up with it, or you're out of ideas on what to write about. Whatever the reason, identify the issue and get on a schedule. Research from Hubspot shows that business blogs that keep to a regular schedule and increase blogging from 3-5X/month to 6-8X/month, almost double their leads!
FIX: Get on a schedule; at least once a week to start. If time or bandwidth is a major concern or deterrent for you, consider hiring someone to blog for you. Establish a schedule and stick to it.
5. Not having a personality
Your blog can't be everything to everyone. Some companies try to write generic blogs with no personality that forgets to showcase their company culture and brand voice. Being too broad and trying to "please everyone" is a surefire way to turn away everyone because your blog will seem dull, lifeless, and without a true voice.
FIX: Take some time before you launch your blog and create a theme, choose a layout, and get some photos that resonate with your brand. Did you know that total views increase by 94% if a post contains a relevant photograph or infographic, as compared to articles without an image? (Source: Skyword) As part of your blogging strategy, identify your brand voice. Readers want to know what to expect when they read your content and constantly changing your brand voice confuses them and you lose readers.
6. Forgetting about social promotion
That's great - you have a blog! But how do you expect people to find out about it if you don't tell them. Companies who use social media to promote their blogs rank higher in search engines. And social promotion provides a forum for your readers to share it on their social networks, which only increases the probability of more people seeing your great content!
FIX: Use every opportunity to spread the word. Promote your blog on social media, put a link in your customer newsletter, and add a link on your sales materials. And don't forget to update any online profiles you have like LinkedIn, alumni databases, or industry networks that you belong to.
So after you're done editing your post for grammatical errors and spelling mistakes, use this handy checklist to make sure that you're getting the most out of your blogging campaign!