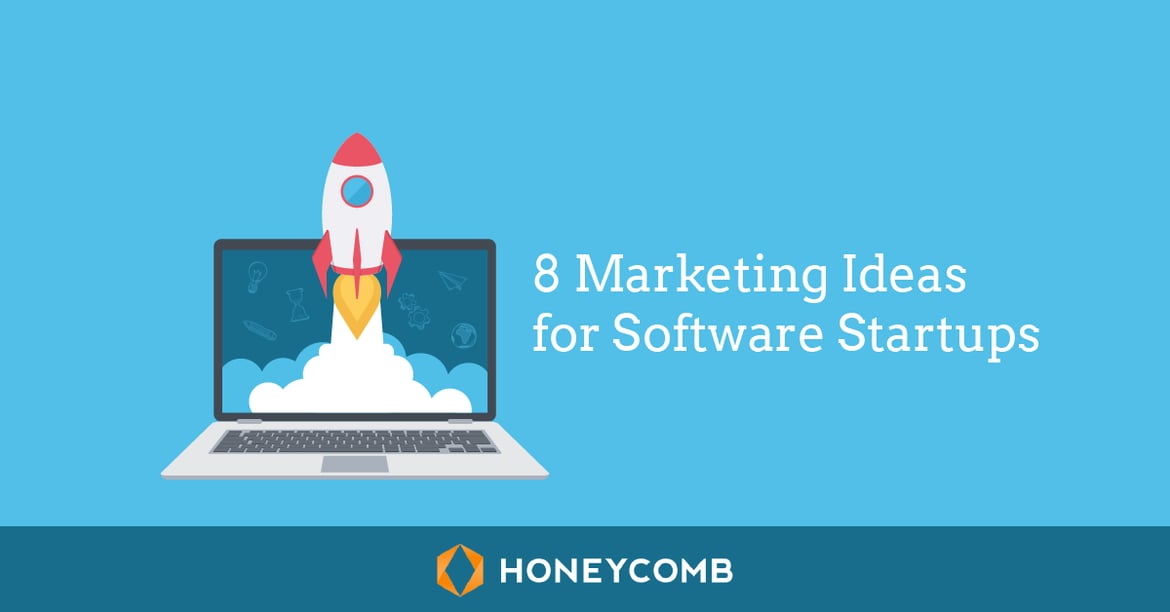 What's the secret behind why some software companies make it and others don't?
There are plenty of startups that have great products, but some fail, ending up in that virtual graveyard and others go on to be the next big hit.
It's a combination of hiring quality people who believe in the product, investment in customer satisfaction, and a stellar marketing campaign that targets their ideal customer.
While the first two components are important, let's focus on some marketing ideas for software startups that can send you on the path to success.
1. Invest into inbound marketing collateral
Your online presence through a great website and social media will help drive your inbound marketing efforts.
Rather than paying sales reps to make cold calls and rely on the rare response from a prospect, successful software companies lean on their inbound marketing presence to bring them qualified leads.
It's a more efficient way of doing business, which is what all startups should do. Lean operations mean leveraging the automation capabilities of an inbound marketing campaign using a tool like HubSpot.
Practicing an inbound marketing strategy that provides value to website visitors creates a scalable, long-term marketing funnel.
2. Value-driven email marketing campaigns
How about an email newsletter? As long as you do it the right way: Don't Spam, Give Value.
Use your core customers to share the good news about your company. Include social sharing buttons at the bottom of every newsletter so that your readers can share it on whatever social media channel they like and watch your contact database grow.
While you want to share industry news, product updates, and occasional promotions, don't bombard your leads with this.
If you wanna run email marketing campaigns for leads, use drip sequences that drive the lead to download another content offer or watch a demo video of your software.
3. Write about it
Have you consider starting a blog? Blogs are a useful way to drive traffic to your site around the clock. It's one of the best investments of your time because with the right promotion on social media, your blog posts can go viral. Remember not to use your blog as a forum for how great your company is, but rather share valuable information. Try doing some interviews with thought leaders in your industry, or feature one of your customer's success stories. If you're not convinced on the value of having a blog, read our post on 10 stats about blogging that will definitely change your mind!
4. Pay-per-click ads
One of the most simple and cost effective marketing strategies for new software companies is by buying visits to your site than earning them organically. One of the most popular forms of PPC advertising is bidding for ad placement in search results. If you're going to use this strategy, take some time to research the right keywords, choose those words and place them into a well-organized campaigns, and then set up PPC landing pages that are optimized for converting those visitors to leads.
5. Growth hacking
It's not as bad as it sounds, trust us. What successful software companies do is rely on their network of influencers to help grow their business. They leverage developer and user communities to test their products, get design input, and then have these folks promote it through their networks. In exchange, these brand partners receive a commission of sales or become resellers themselves.
6. Class is in session
Using your website as an educational tool is a helpful way to drive business because it provides your viewers with valuable information. You can also link a YouTube channel to your site, or share it in your email newsletter to get even more readers checking out your company. Whatever way you go, keep the information relevant and brief so as not to bore your potential customers.
7. Is it just hype?
Be careful not to overmarket a product that is just plain bad. It doesn't matter how amazing your marketing is if your product is just plain horrible. And in this day and age where a bad customer review can go viral at lightning speed, make sure you've done the right testing before running out and launching a full-scale marketing campaign.
8. The early bird
Doesn't always catch the worm, but sometimes builds too much hype and then your startup can't deliver on the (amazing/life-changing/insert hype adjective here) product that everyone is watching for. Instead of making this mistake that most software startups do, make sure your product is tested and ready for the prime-time coverage if and when it does come. Make sure you have the manpower in place to handle the flood of customers that may come your way!