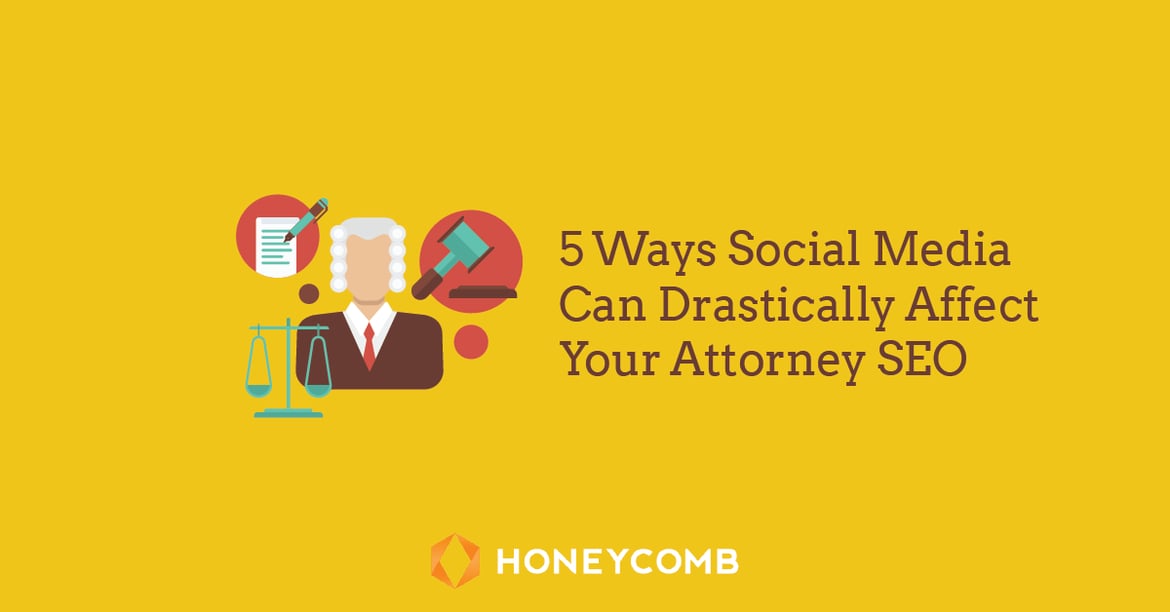 The power of social media as a global influence cannot be discounted, especially for lawyers and attorneys. Many of your prospective clients start their day opening up their favorite social networking sites to tune in to what's hot and trending. Social media has become the primary source of information for many people, and it's an open venue waiting to be exploited for law practices. For an attorney SEO and social media are huge componets of a successful overall digital marketing strategy.
One of the most important things to consider when maintaining a lawyer website is search engine optimization (SEO). Law firms want their websites to climb the top of search engine rankings, because it will translate to leads and new clients. It's important for attorneys to understand that social media and SEO are integrally tied together - one benefits the other, and vice a versa. If you ignore one side of the coin, the other will suffer.
For a small to medium-sized law firm, how can you compete with big firms using social media and SEO?
1. Spread your links through social media shares
Social media has the ability to spread your website content like a virus. Depending on the attractiveness and engaging nature of your content, social networking sites can give your pages more visitors. Search engine bots can smell links that are frequently visited. In other words, the more shares your site content gets, the higher is its chances of getting into the top of search ranking.
2. Set up Google Authorship
Google provides content providers with an opportunity to be known, through Google Authorship. You can claim ownership or authorship over content – in your case, your site's posts and pages. You can establish a connection between your website and your Google+ profile. When someone searches via Google any keywords related to your content, your site pages get priority ranking in search results, complete with your byline. In other words, if you still haven't used Google+ as one of your social media accounts, we suggest you start now!
3. More social media engagement = Better search indexing
If your legal content attracts attention and tickles the interest of social media netizens, it may translate to better discovery by search bots. Social media engagement has become one of the key elements that search engine spiders are looking for. When they spot websites with great social media engagement, your pages will be indexed better, which means better results in Google searches and attorney seo placement.
4. Become a social media influencer
An influencer is someone who is considered an expert in a particular niche, and is being followed by online users for advice and information. If you build yourself to become a social media influencer in your respective legal field, expect to get more followers and improved attorney SEO results. In turn, they will visit your site more often and, well, you know the drill - more visitors = more leads = more clients!
5. Establish keyword ownership through your social media accounts
One technique in making sure that you get first dibs of the search results top position is by "owning" keywords. Long-tail keywords allow you to grab these unique search terms for your advantage, to the point that you will be ensured of getting good search rankings. Did you know that you can replicate this same feat in social media? You can create unique keywords by using custom hashtags for your website pages. That way, in case your hashtag catches on, your website will be remembered and visited more often and your attorney SEO will improve significantly.