There's plenty of acronyms out there when it comes to online communication: SEO, SIY, and of course, CTA. So what are some call to action examples in writing and how can they help your inbound marketing campaign?
With a properly placed call to action, you are encouraging and motivating your readers and leads to take action that will move them closer to becoming a customer, client, or business partner.
This can look like a demo request, an ebook download, or a webinar event. However you decide to convert your visitors into leads, here are the best practices for creating call to actions that kick ass.
1. Speak their language
To entice your readers to click on your CTA, you need to speak their language and use words that resonate with them. Call to action examples in writing need to include language that your audience uses themselves, so they feel understood.
Motivate your audience with action words like send, download, or try me. Put yourself in the position of the reader and play with words that you think would compel them to learn more about your company and product.
This first step will get you more leads by simply relating to the customer and becoming more likeable. Being liked and trusted by your readers is important because they're more likely to do business with you when they feel positive about every interaction with your company, even down to your CTA.
Examples of a call to action that resonate with buyer personas and their needs and wants are the best way to mimic CTAs for your website.
2. Show some value
Your call to action advertising should allow the reader to get something valuable to them, so make sure that you are providing that in exchange for that precious email address.
Readers are more likely to submit email addresses with the best call to action phrases that give them something, whether it's a free trial, an e-book, or a complimentary consultation.
Whatever it is, make sure it is something that your readers want! This step will get you improve your lead generation by showing that you are providing an opportunity to "sample" the product.
3. Learn more about your readers
Creative call to action phrases will not only capture readers' emails and turn them into leads, but they can allow you to learn more about them.
Asking a couple of key questions allows you to craft follow up that is meaningful and relevant. It also allows you to segment your leads into different groups that will help your sales team provide solutions that are more specific to that lead.
Of course, you don't want your CTA to have too many questions so that the reader feels overwhelmed.
Just a few to learn a little more these potential customers is great!
4. Say Thank You!
It's such a simple gesture, but with our busy lives and culture, people often forget to say thank you.
So once a reader has completed the info on your CTA, redirect them to a landing page that says exactly that: "Thank you".
It's a nice touch and it allows you to clearly communicate the next steps about what the reader should expect.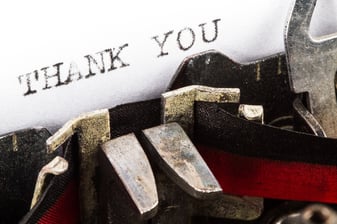 Something like, "Thank you for downloading our e-book. It will be sent to your email within 2 days." This new lead will feel better about the fact that they just gave away their email to a total stranger, and they'll be looking forward to the follow up!
5. Multiply your leads
So you've said thank you and your new lead feels good about the fact that they'll be getting a chance to learn more about whatever it is you've promised them. How about giving them a chance to share this info with a friend or colleague?
Your CTA will have directed them to a simple landing page, so add some social sharing buttons to encourage them to spread the word.
Enable your new lead to share on Facebook, Twitter, or good ol' email!