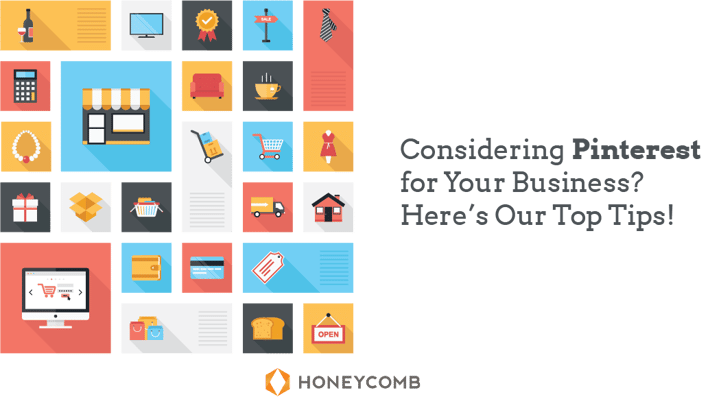 Now in its sixth year, the popular visual bookmarking tool known as Pinterest is catching on as a useful and efficient way for companies to gain new customers. Known as a discovery, sharing, and storage tool for both consumers and brands, Pinterest is one of the top social platforms, and is one of the top search engines, after Google and YouTube. Here's some quick stats on Pinterest and its users:
66% increase in annual visits, year after year, which is more than any other social network.(Ahalogy)
Almost half of U.S. online shoppers bought something as a result of a Pinterest recommendation.(Pinterest)
Pinterest is one of the fastest growing social platforms among millennials.(Business Insider)
To capitalize on these numbers, you'll want to consider Pinterest for your business, too! Let's dive in to some of the things to know about Pinterest before creating a business account.
The nuts & bolts
If you're not already using Pinterest, no fear - it's really simple! This visually inspired social media platform allows you to share and save, or "pin" content to virtual collections called pinboards, also known as "boards". You'll definitely want to sign up for a business acount since doing so allows you to access special features like viewing analytics and purchasing ads. Take time to name your boards and organize them in whatever way makes sense for your business. You can name them according to seasonal campaigns, product types, or however you want to categorize them so that your audience, or "pinners", can easily navigate through the boards.
Once you've got some basic boards up, get to pinning! You can pin your own content, which is highly recommended for a business account, or pin info from other sites. As long as there's a captivating image that resonates with your brand and isn't a competitor - go for it! Re-pinning is also an easy way to be more active on Pinterest when you're getting started and don't have enough of your own content to share. Plus it can get other Pinterest users to notice your brand pretty quickly!
One stop shopping
This past year, Pinterest launched Buyable Pins, which lets people buy products right from the Pinterest app. This feature makes it easy for people to take action right while they're browsing Pinterest to discover new inspiration and buy what they see. So far, Pinterest business accounts with Buyable Pins are having great success with this e-commerce feature. Using Pinterest in this way allows your business another customer acquisition channel - and that's always a good thing!
Speaking of shopping, a recent Shopify study showed that people referred to the site by Pinterest are 10 percent more likely to make purchase on e-commerce sites than users of other social networks, and they tend to spend twice as much as those referred by Facebook. Wow! So whether you incorporate simple product pins or use the newer Buyable pins feature, double check your Pins' links - there's nothing worse than when a buyer clicks on a broken link or unrelated page on your site and can't find the product they're looking to purchase.
Picture perfect
Clear, helpful descriptions and beautiful images are what drives clicks on a visual platform like Pinterest. Great photos and infographics are what inspire pins, drive traffic, and ultimately create customers. And if it's not mobile-friendly, it's time for a revamp. Pinterest user data states that almost 75% of Pinterest usage takes place on mobile devices.
And speaking of pictures, a Curalate study showed that images without faces receive 23% more repins. Interesting, right? The good news is that you won't have to hire a supermodel as part of your marketing campaign, but you will still need to have high quality images. Some features that Pinterest's top shared images have in common: less than 10 percent background, multiple dominant colors, and an aspect ratio between 2:3 and 4:5.
Mommy dearest
Are moms part of your target demographic? If so, then launching Pinterest for your business should be top priority! More than half of all moms are on Pinterest, and "Mom Pinners" are 30% more likely than non-moms to buy products they discover on Pinterest, according to Ahalogy. Wow! And moms on Pinterest share 3 times more than the rest of the users on Pinterest. So take a look at your buyer personas and consider curating a Pinterest page for moms if it makes sense as part of your marketing strategy.
But don't forget dad!
Although Pinterest established its user base with a strong female demographic, in 2014, the number of men using Pinterest doubled. In fact, according to the company, more men use the platform in the U.S. every month than read Sports Illustrated and GQ combined. Categories like Food & Drink, Technology, Cars & Motorcycles, Humor, Men's Fashion, and of course Sports are all popular categories with the men. Considering marketing internationally? Well you should know that there's even a 50-50 split between male and female Pinners in emerging markets like India, Korea, and Japan.
Spread the word
In the same way that you can use Facebook ads to reach a larger audience on Facebook, Pinterest uses what they call "Promoted Pins" for people to discover your business. You can buy Promoted Pins for all of your marketing goals including awareness, engagement, and traffic and change them as your campaign evolves. Businesses that used Promoted Pins were repinned an average of 11 times per advertisement, which translates to about a 30 percent bump in earned media from their campaigns. And these promoted pins perform long after the campaign ends. Pretty cool, right?
So now that you're more familiar with Pinterest and its use for business, decide with your social media team if this is a viable platform for any part of your target audience. Once you've done that, using Pinterest for business marketing is super easy on this popular social platform. Happy Pinning!