How many emails are in your inbox right now? Over 100? 1,000? 10.000? You're probably like most of us, struggling to reign in the insurmountable inbox coupled with it's (Unread) notifications. Having a cluttered inbox doesn't just clutter your brain, it also negatively affects your job performance and efficiency. The average worker spends 28% of their workday reading a responding to emails. 28%!!! That's 562 hours a year in your email.
How do you declutter your inbox, reduce your time in your email, and increase your daily efficiency? These three simple steps are what I take to maximize my email efficiency and create an environment that reduces stress and gives me clarity to run our inbound marketing agency. I hope they help you too. Best of all, these tips will take 10 minutes (maybe) maximum to implement, and they're guaranteed to save you dozens of hours this year on email.
1. Never See Spam With Custom Filtering
If your business uses Google Apps for Business, you get the pleasure of using Gmail, our favorite email client. One of the reasons we love Gmail so much is it's ability to manage and filter incoming emails. You can use filters to automatically tag emails from certain individuals, categorize emails into folders depending on subject lines, and many other really helpful options.
To create a filter for emails, open an email and click the dropdown arrow at the top right of the screen:

You'll be given the option to choose what type of emails you want filtered and where you would like them to go: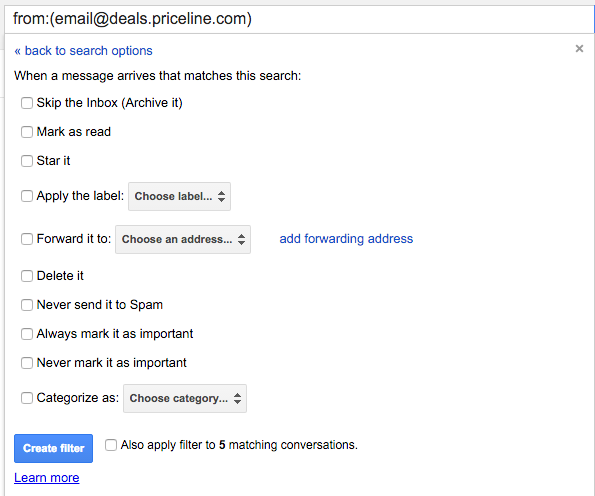 One filter I like to use is to label any unwanted emails as "Marked Read, Archive". This allows me to keep all emails from that specific sender in my Archive folder, just in case I need to reference them in the future. But using "Marked Read" also removes the unread bold notification which is sometimes annoying, especially if you know the email is spam and you don't plan on reading it.
2. Create a Folder System
Creating a folder system is a great way to clean up your inbox. One way to create efficient folder systems is to have certain folders for "purgatory emails", that is, emails sitting in your inbox you're waiting to take action on. I'd suggest folders for Needs Response, Response Sent, No Response Needed.
Once you've got your inbox totally clean and you open your email the next day, you'll have a list of emails that will need action taken. If you can first take each email and organize it into one of these three folders, you'll be able to efficiently respond to the emails that require a response and store the other emails in your folders. This one step is huge for de-cluttering your inbox because many of our inboxes are filled with continuing conversations. If you can organize, respond, and categorize these continuing conversations,you'll not only declutter email quickly, but you'll also speed up your email response time and reduce your time spent slogging through your inbox.
3. Clear Your Inbox Before Going Home
Leaving the office with zero emails in your inbox is a verrrrrrry nice feeling. You've responded to all of your customers, handled all internal communications, and organized emails into their respective folders (if you're not already automating that through email filtering in #1). The last thing you should do at the end of your day is wander back into your inbox to check for any remaining emails. If it's past working hours and you want to respond to an email, consider download Boomerang for Gmail, which allows you to write an email and then schedule it for release once business hours resume tomorrow.

Victory!!
Knowing how to declutter email sets yourself up for email success tomorrow. You come in to a fresh inbox, and you know that the emails you're seeing are not old communication, but exciting new stuff to respond and handle. The secret to declutter email is to stay vigilant and not fall behind. It's easy on a busy day to let your inbox pile up with existing communication, unread spam emails, and completed conversations. On those days, it's best to sit back, click "Select All", and find your new best friend:
ARCHIVE ALL.