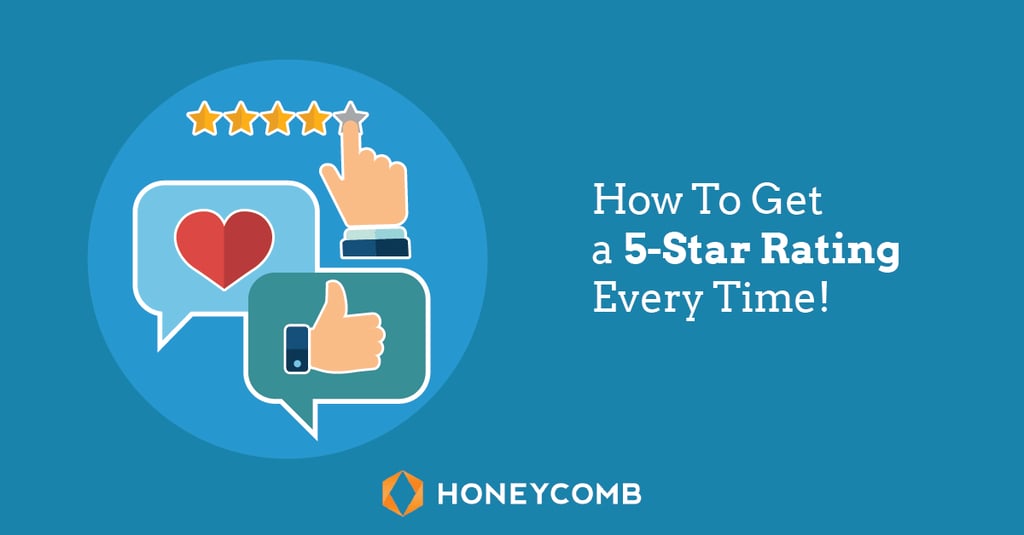 In a world of likes, stars, and double-taps, there's no shortage of ways for people to share a customer service rating with the world. For better or for worse!
So what are some of the things that you can do to ensure that every customer walks away wanting to give you a great customer service rating? Excellent service, a superior product, and a personalized experience are just some of the ways that your company can guarantee 5-star ratings for every customer!
The cost of bad service
It may not seem like it, but the cost of bad service is pricey. These stats paint a stark picture:
78% of consumers have abandoned a cart, walked away from a transaction, or not made an intended purchase because of a poor customer service experience.
News of bad customer service reaches more than 2x as many people as praise for a good service experience.
91% of unhappy customers will not do business with you again.
Yikes - not a pretty picture! Think of all of the effort that you made in getting someone to your website, only to have them abandon their cart because they didn't feel valued. The time and money spent on advertising, value-based selling, and lead nurturing only to lose them at the point of purchase. Kind of a waste, right?
And then how about that bad news spreading like wildfire across social media? With consumers now having instant access to online feedback that everyone can see, it's even more important to provide your customers with a stellar experience. This is critical because these negative comments and reviews could end up on your Facebook, Twitter, and Instagram accounts in seconds!
Listen up
If you're in the business of dealing with other people, and most of us are, then customer service is not something you can ignore if you want to have a successful and thriving enterprise. So start by listening to your customers, blog readers, prospects, and anyone who you do business with and get their feedback on how you're doing as a company. When customers share their story, they're not just sharing pain points. They're actually teaching you how to make your product, service, and business better. So pay attention to what you're hearing from their valuable insights and feedback.
Did you know that according to consumers, customer service agents failed to answer their questions 50% of the time? So what's missing in half of those interactions? Most likely it's a human connection and superb listening skills. While automation can be efficient, the resulting impersonal experience and risk of poor information increase the chances for a dissatisfied customer. But most importantly, businesses are missing a valuable opportunity to connect with current and prospective customers. Although your customer service organization should be designed to efficiently communicate those issues with the other departments like sales and marketing, ensuring a 5-star rating from every customer means that every customer touchpoint has to be consistent, and positive.
Fix it!
Great - so now you have a good handle on your customer's complaint. But how do you ensure that they don't walk out the door and tweet about the "horrible experience" that they had at your company? Resolve it right there on the spot! Studies show that companies who do this have a much higher chance of repeat business since customers state that they'll do business with you again 70% of the time when their issues are resolved immediately. A popular car rental company is known for doing this right as a customer is turning in their keys by asking, "How was our customer service? Would you give us a 10 out of 10?" This is effective because the rental agent knows right away if there are any issues, giving them the power to rectify and address it before the customer walks out of the office. Pretty smart!
Fixing the issue is also important because you want to show potential customers that you care. With customers having access to just about any piece of information about your company, almost 60% of Americans perform online research about the products and services that they are considering purchasing. While it's inevitable to have the occasional dissatisfied customer, you'll want to have some success stories from customers talking about how you helped them with a problem and that they walked away happy. Potential customers will appreciate your efforts and sense that you care about the satisfaction of your customers, making them more likely to do business with you.
Getting a great customer service rating every time isn't difficult, but you do have to listen to your customers throughout the entire process. Keeping those current customers satisfied only guarantees you future, repeat business, and of course more revenue for you!