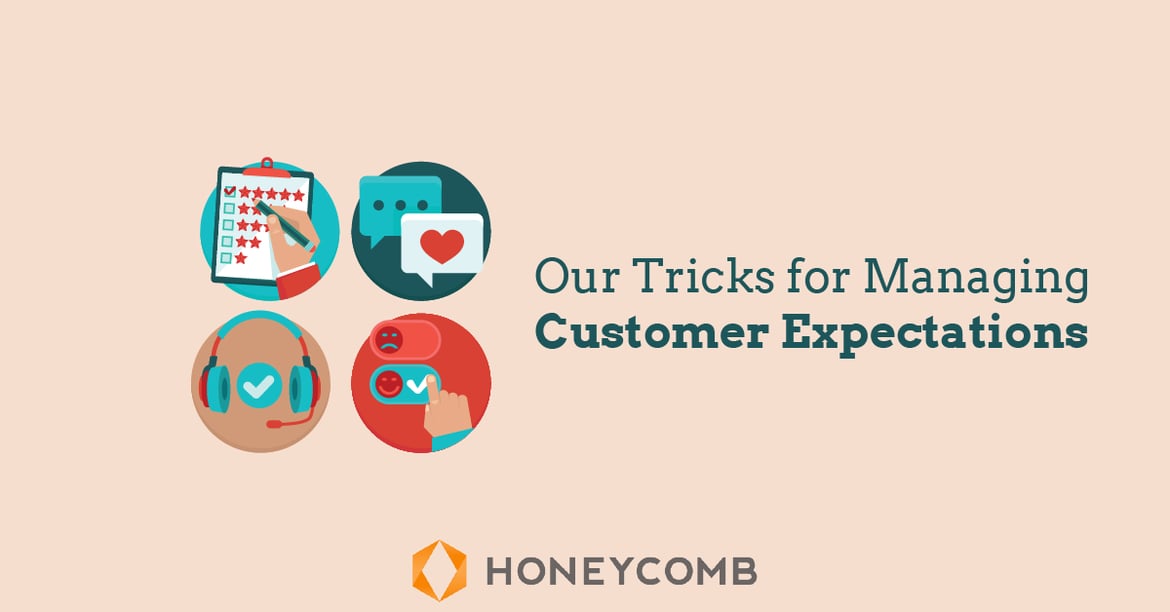 A new era has dawned in the world of managing customer expectations.
What used to live behind closed doors is now as public as Donald Trump's hair. Consumers and businesses are more empowered than ever to tell the world what their experience has been with your brand because of the internet.
How you are managing customer expectations can either make or break your company. I would like to lay out some principles that I think are crucial in navigating this. While this list is certainly not exhaustive, the things I mention below are some of the heavy hitters in this discussion.
You only get one first impression
I probably don't even need to elaborate here, because the section heading says it all. You cannot underestimate the importance of getting off on the right foot with your customer. Therefore, you have to go to the very beginning of your sales process to evaluate whether you are setting appropriate expectations from the get go. Is there clarity about not only what you will offer them, but when you will offer it?
How you will offer it?
How will you communicate with them?
How often?
When should they expect to hear from you?
Who is their main point of contact?
These are crucial questions to answer from the very beginning. It is likely that whatever their first experience is, that is how they will expect things to continue. It is very easy in the sales process to wine and dine your prospects. You answer emails right away, call back right away. You need to make sure you set up a healthy and consistent communication protocol that carries over with their account manager. This is where the warm hand off comes into play.
The warm handoff
The Sales Rep and the Account Manager need to be on the same page; there's only added value for everyone in keeping messaging consistent between sales and marketing. There needs to be a smooth transition from one relationship to the other. When the Sales Rep hands their new customer off, they need to bring the Account Manager up to speed on both what they have promised the customer will receive and how they have promised they will receive it. I recommend doing this with your new customer on the line so that they are aware that their Account Manager has been brought up to speed. The Account Manager needs to know what the key selling points were for this particular customer. Every customer is different. They value different things. One customer will be completely numbers driven. All they care about is the bottom line. Don't coddle them with smooth vernacular, they don't care! Another customer, however, built their company from the ground up. It is their baby. They want to make money, but they don't want to lose the soul of their company to do it. When thinking about managing customer expectations, you must be mindful of the differences between each of them. Therefore, the communication between all of your team members who have interacted with them up to this point is vital.
Stay engaged
Whatever expectation is set must be maintained. Watch out for this! As you move past the front end of the relationship, you might be tempted to drill down and focus on the work, but not give as much time and attention to keeping your customer in the loop. Whatever communication you have maintained up to this point, needs to continue. You need to regularly check in with your customer to navigate any new or changed expectations. Think of your whole relationship with your customer as a continued sales cycle. There will always be new ideas to sell them on based on evolving desires and dreams they have for their company.
Translate the numbers to English
This is something I have had to learn the hard way more times than I would like to admit. Your numbers reports make complete sense to you. You look at them and they tell you how awesome a job you have done making your customer a lot of money. Don't forget that reports are often a language you know how to read, but your customer doesn't. And frankly, most of them don't want to learn that language! Make sure you not only send regular reports to your customers, but that you walk them through what those numbers mean and why they are good news. Along the way, be sure to teach them enough about the language to empower them, but don't expect them to get as excited about the report as you are without showing them why these numbers are such good news.
Give 'em the pickle
This is probably the simplest, but most crucial point in this conversation. There is a great story in Bob Farrell's book "Give'em the Pickle!" about a man who goes to his favorite restaurant for 3 years and every time asks for an extra pickle on his sandwich. He is always kindly accommodated until one day a new server tells him there is a $1.25 charge for a side of pickles. The man gently restates that he would only like 1 extra pickle, not a whole side. The server goes to her manager, and then returns to tell the man he can have 1 extra pickle for a $.05 charge. He is appalled and never returns. Here is the point. You have a pickle. What is it? It is something you can give your customer in exchange for their continued loyalty. It will probably be something they ask for that you don't initially want to give them, but after you really think about it, is not a big deal, and is not worth the battle. I personally believe that this is 90% of the battle in managing customer expectations. There will be moments where they will ask you for something slightly beyond what you have agreed. Should you give them everything they want? No. But if it's 1 pickle, give 'em the damn pickle!