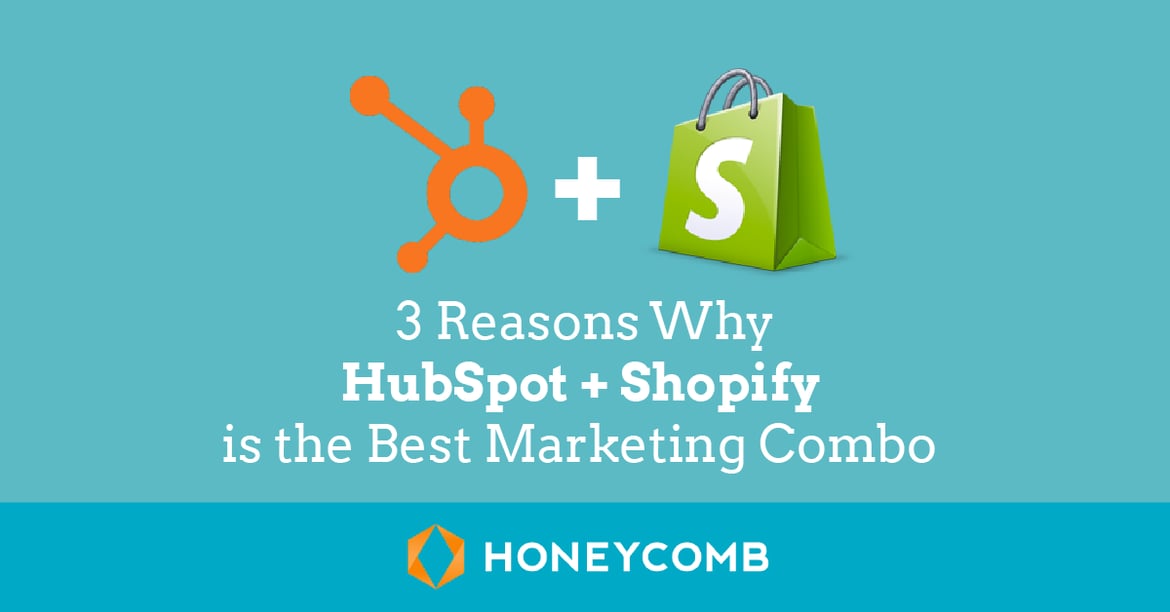 Do you run an e-commerce store? Picking the right marketing software and shopping cart is one of the most important decisions you make for your business.
There are over 110,000 revenue generating e-commerce stores online today. That's some serious competition. How do you separate yourself in a meaningful way to bring in new customers and keep current customers coming back?
You need to integrate a successful inbound marketing campaign with a robust shopping cart for maximum conversions. How do you do this?
Connecting sales and marketing enables your e-commerce business to create a seamless user experience that increases your daily sales. Up to 95% of customers who visit your website for the first time do not buy anything. You need to nurture these visitors through an attractive inbound marketing strategy that includes emails, product pages, value-based content, business blogs, and personalization.
We've worked with dozens of e-commerce retailers and direct sellers who do millions of dollars in revenue per year. And we've used all the platforms: WooCommerce, Infusionsoft, Squarespace, Magento, and more. Here's what we've found:
The two software solutions that provide the highest value and potential for growth are Shopify and HubSpot.
HubSpot is an inbound marketing software platform that helps companies attract visitors, convert leads, and close customers. It includes everything you need to run an inbound marketing campaign, like blogging, SEO, social media marketing, and email nurturing. It's the ultimate way you can start selling value in your marketing activities.
Shopify is a complete ecommerce solution that allows you to set up an online store to sell your goods. It lets you organize your products, customize your storefront, accept credit card payments, track and respond to orders — all with a few clicks of the mouse. Plus, it has dozens of third party developers working to build amazing integrations and apps so you can connect your store with distribution, warehousing, fulfillment, and shipping.
Why do we love these two software solutions the most? Here are the three biggest reasons.
Reason #3: Unlimited Reporting Capabilities
HubSpot and Shopify provide the most robust reporting capabilities available in the industry. When these two softwares are connected, you can see a full closed loop report of converion. Simply put: You will be able to see every customer's activity from first contact to purchase.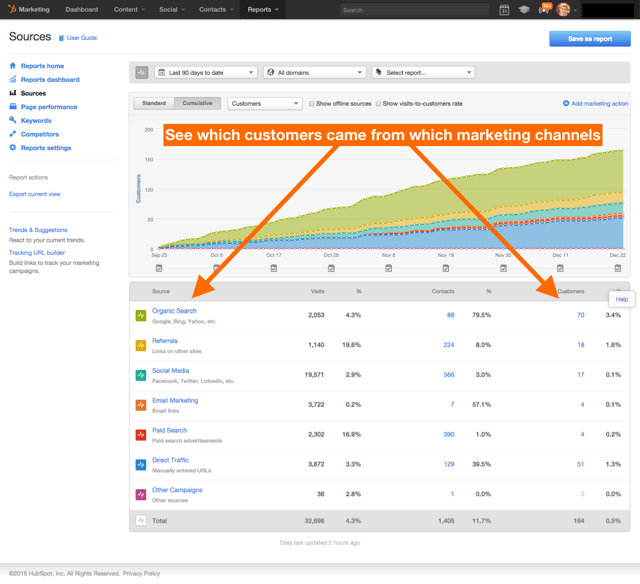 Want to know if your organic Facebook marketing is generating actual sales? Does Twitter for business actually work on e-commerce? With HubSpot and Shopify, you can look back to each customer's interaction with your Facebook page and how much revenue they've brought you.
Reason #2: Apps and Plugins for Days
Both HubSpot and Shopify have robust app stores and integrations, making your life about 1,000 times easier.

Shopify has a third party network of developers who make applications to connect you with other aspects of your business process. You can integrate apps that connect Shopify to your fulfillment, distribution, and shipping. Some features app integrations include:
Calculate shipping automatically in your shopping cart based on the customers location
Add pop-up coupon offers as people are exiting your website, increasing conversions
Upsell complimentary products in the shopping cart so customers buy more product.
HubSpot also has a robust network of integrations, both native and third party, that bring together your other solutions. Google Apps, Slack, Zapier, SalesForce, Evenbrite, and other apps all work within HubSpot to create an all in one solution.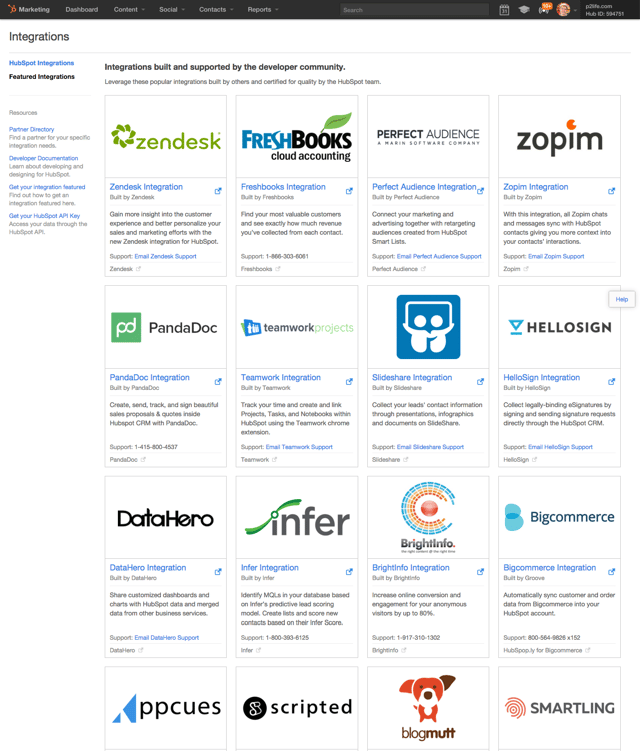 It makes your business process waaaay more efficient and reduces your time spent working and sharing data between different software solutions. Plus, HubSpot connects APIs with the most important software solution in the whole mix.......Shopify!
Reason #1: Seamlessly Connect Marketing and Sales
Shopify and HubSpot's ability to connect is huge. Why? It allows your current marketing strategy and sales solution to share all data, so that you can utilize your sales data to make better marketing decisons, and vice a versa.
For Example: A customer visits your ecommerce site and places a product in their shopping cart. However, they leave before making the purchase. Shopify will communicate the customer data, including their email, what products were placed in the cart, if they have bought them before, and when they left the site without purchasing.

HubSpot can then use this data to create a follow up email marketing sequence encouraing that person to complete their purchase over a week's period. We have seen up to a 42% conversion rate on these abandoned cart nurturing sequence. Imaging if you increased your sales by 42% just from creating an email nurturing sequence.
Another Example: HubSpot has the ability to send reminder emails to reorder products. When someone orders a product on your website, Shopify will tell HubSpot what was ordered, who ordered it, and how much they ordered.

HubSpot then uses this data to send a set of follow up emails when it's time for the customer to purchase a new product. This is huge for ecommerce sites that sell consumable products or subscription based products. Imagine having a set of 10-15 emails that are automatically sent out to customers over a month period when it's time for them to reorder? It's all done automatically for you. All you have to do is watch the customers roll in. ;)
--
All in all, Shopify and HubSpot is the best solution we've found over our years of working with many ecommerce customers. It brings the best ROI and has the most robust integration solution. It also provides the best turnkey solution for ecommerce businesses looking to automate some of their processes. We hope it works for you too!
Need help with your Shopify and HubSpot inbound marketing campaign?
We'd love to help! Click below to get a free 30 Minute Assessment of your ecommerce website.