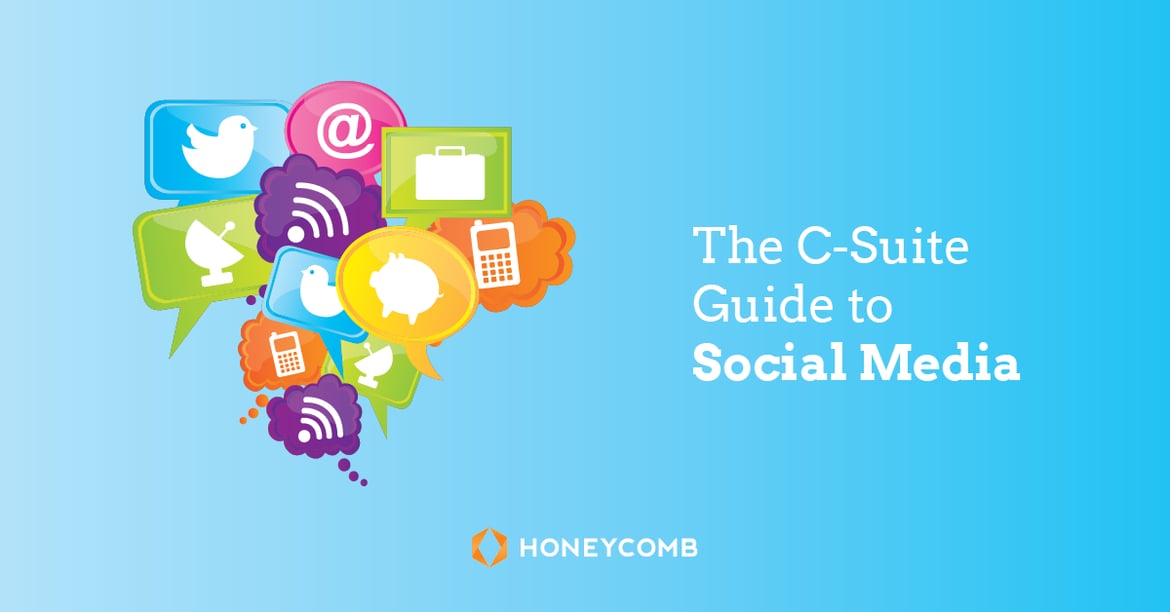 You can't underestimate the power of social media today. No matter what business you're in, it's important that you know the lingo and the basics of the social media platforms being used by billions of companies all over the globe. Right here in the U.S., Americans spend an average of 9 hours engaging with digital media. Wow! Even if you don't have your own personal accounts on these channels, use our C-suite guide to social media to brush up on the basics and make sure you have a solid understanding of how social media can impact your business. Let's go!
FACEBOOK
We'll start with one of the most popular social media sites out there, Facebook. Once just an online network for Ivy League college buddies, this social media platform has grow into a more than just a way to post vacation photos. Facebook is now being used by over 1.5 billion people, with more folks creating profiles every day, so to reach this demographic it might be worth it for your company to create a Facebook for business page.
Creating a Facebook page for your business allows you to share photos, promote blog posts about your industry, and even remind potential customers about a special promotion that you have coming up at your company. The great thing about Facebook, and why it's so popular with businesses, is that anyone who sees your page can share your content. That 50% promotion you're running? Well your fans can share it with all of their friends and then the number of people that see your promotion multiplies and can "go viral".
Starting your social media campaign with a Facebook isn't a bad idea. Did you know that Facebook drives almost 25% of all social referral traffic, the most for any social channel? This is great news if you have other social channels like Twitter and Pinterest, because your Facebook page can drive traffic there, too!
TWITTER
Since we mentioned it, let's talk a bit about Twitter. Although just as popular as Facebook, Twitter operates quite differently and has a few nuances that users should know about before posting messages and media, also known as "tweeting". Twitter is more open than Facebook since users can have virtual conversations with each other without being "friends", and there's not a lot of ways to make your account private on Twitter, which allows for anyone, anywhere to follow you.
Don't have a Twitter account already? Let these stats convince you that starting one for your business could be a good next step:
85% of followers feel more connected with a small business after following them (Twitter.com)
67% of Twitter users are more likely to buy from the brands they follow on Twitter (MediaBistro)
Over 80% of B2B marketers are using Twitter for their business (Twitter.com)
So once you set up your account (which we know you'll do after reading those stats!) is to start following thought leaders in your industry, brands you want to emulate, and maybe even a few competitors. Then start using your Twitter account as a way to promote your awesome content. How will anyone find it you ask? Well the great thing about Twitter is that marketers can take advantage of topics that are trending, also known as "hashtags", and post messages with the hashtags that are relevant to the current marketing campaign. This allows your posts, promotions, and company info to get found by people that are looking for those hashtags, who you might not otherwise reach in this giant cyber universe!
PINTEREST
Speaking of getting found by new people, did you know that Pinterest is one of the top 3 search engines? Now in it's sixth year, this image-centric platform allows users to share images, also known as "pinning", with their followers and people who are searching for those types of images.
But it isn't just about the images. If you're managing your Pinterest account correctly, you can promote blog posts and other types of content that have an image associated with it. This is another great way for your blog content to get found by prospects who might not otherwise be looking for your company. And when they do find your company, statistics show that almost half of online shoppers make a purchase based on a Pinterest recommendation - wow! Still not impressed? Well, the users that do buy something from a Pinterest recommendation spend more than 2x as much online as the average U.S. internet user. Okay, now you're sold!
YOUTUBE
Everyone's favorite channel for watching crazy cat videos or reading lyrics along with their favorite songs, Youtube is a video platform that more and more businesses are starting to use. If you've got a good videographer on your marketing team and want to share your customer experience with the world, Youtube might be a social media channel worth adding to your online marketing strategy.
Consider your audience and buyer personas. Are you trying to reach Millennials and consumers aged 14-17? Well then get yourself some good video equipment and start planning some stellar videos because over 80% of these groups use Youtube daily. But marketing to today's youth isn't the only use for Youtube. Maximize your Youtube account and promote some of your webinars or product tutorials, which viewers can then share with their networks. As with all social media content, make sure your Youtube videos are dynamic, valuable, and well-edited. This is one of the first impressions a prospect might have with your company, so make it great!
Now that you've had a chance to review our guide to social media, hopefully you can start with a couple of channels that you feel are right for your company. And while there's plenty more out there, make sure that the ones you do start with are done right. Always remember to speak to your buyer persona and add value with whatever content you're sharing online!