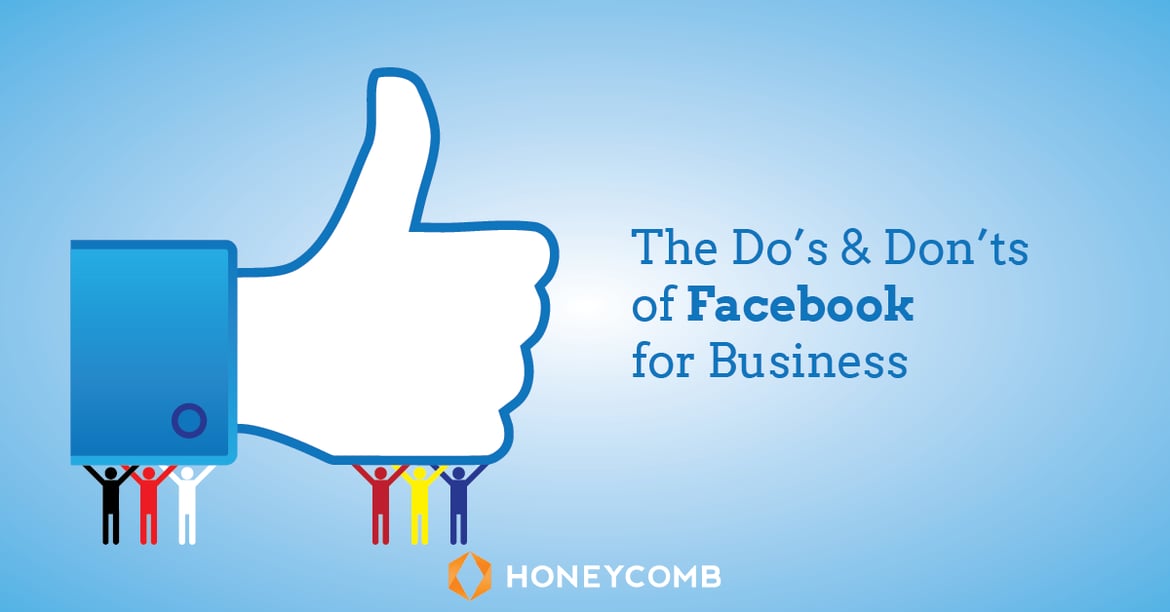 Getting started with social media as a small business owner can be daunting; the constant evolution of social networks can make it quite challenging to stay on top of best practices. These are common questions that business owners and marketing managers think about when trying to figure out how to use these popular channels:
When should you use Twitter?
How can I maximize Facebook ads?
Is a Youtube channel right for my business?
And learning the etiquette behind each channel it isn't much easier. When using Facebook for business, you'll want to pay attention to the rules, written and unwritten, to maximize your posts and bring in new customers with every like!
DO Complete your page profile
Facebook accounts that are only partially completed are hard to take seriously because they automatically appear less professional. First impressions mean a lot in this world of short attention spans and quick click aways. Keep your potential followers engaged by choosing a name and image that easily identifies you and your business. Take the extra few minutes to fill out the "About You" information and keep it consistent with your brand; don't just have a link to your website. Use your logo or a brand-consistent photos for the cover and profile photos.
DON'T Create a "profile"
And speaking of profiles, Facebook differentiates between a "page" and a "profile", so if you're using Facebook for business, you will definintely want to set up a page to comply with the rules. Pages are used for businesses and have some benefits that personal profiles do not; for example, you can have an unlimited amount of followers, promote posts, run ads, and integrate apps that you wouldn't be able to do with a personal profile.
DO add a recommendations page
When you get a good review, you'll want to share it with the world! Integrate a recommendations app like Yotpo so that your followers can read the good reviews in their feed. Or simply add the "Product Reviews" tab to your page so that when potential customers are clicking around your Facebook page, they can read other customer reviews and learn more about the great job your company is doing!
DON'T Always be selling
It's tempting to always want to be selling your product and services, but this isn't a good idea for a few reasons. One, Facebook made an update to deprioritize promotional posts from pages. So what this means for your business is that if you are only talking about your product or company on Facebook, your fans are less likely to see it. Instead, gain some trust by posting original content in your News Feed before you try to send out more promotional posts. And when it comes time to sell, you can always use Facebook ads for those messages! Turning your CTAs into Facebook ads is a great way to go instead of clogging your News Feed.
DO Share diverse types of content
Mix it up and share your blog posts, videos from your latest campaign, and pictures that accurately reflect your brand. Facebook's recent investment in video technology like QuickFire and LiveRail, as well as the Facebook algorithms all point to continual growth for the popularity of videos. Adding some high quality content that your company has created can not only strengthen your brand voice, but your followers are more 62% more likely to share videos than photos (Quintly). So dust off that video equipment and get recording!
DON'T Ignore negative comments
Having a Facebook for business account means you're going to have to be a little more active and engaged than you would on a personal page. Followers can leave negative comments or you might even have competitors that post information about their own products. Instead of just ignoring them, schedule regular times throughout the day to monitor your feed and see what's being said on your page. If it's a customer service issue, handle it immediately so that other followers can see that you care about your audience. If it's truly negative or spam, delete the comment, or even ban that user from making comments like that in the future.
DO Add apps
You've spent so much time building a great page, so give your customers a chance to buy your products instantly through a shopping cart app or a direct link to your products page. Make it easy for followers so that they don't have to click through to multiple screens, links, and tabs. Research the apps that might be helpful for your potential customers and integrate them into your page.
DON'T Overpost
And finally, don't go on a sharing frenzy. While it's tempting to use this popular social media channel to spread the word about how great your company is, schedule your posts at strategic times and at an optimal number for your business. Small businesses benefit the most from sharing 4-5 times per day on Facebook, while larger brands benefit from just 1-2 postings per day (SocialBakers). And make a point to share in those popular afternoon hours, too!
With these handy do's and don'ts for your Facebook for business page, you can ensure that you'll start seeing your likes and followers increase, hopefully leading to more customers for you!