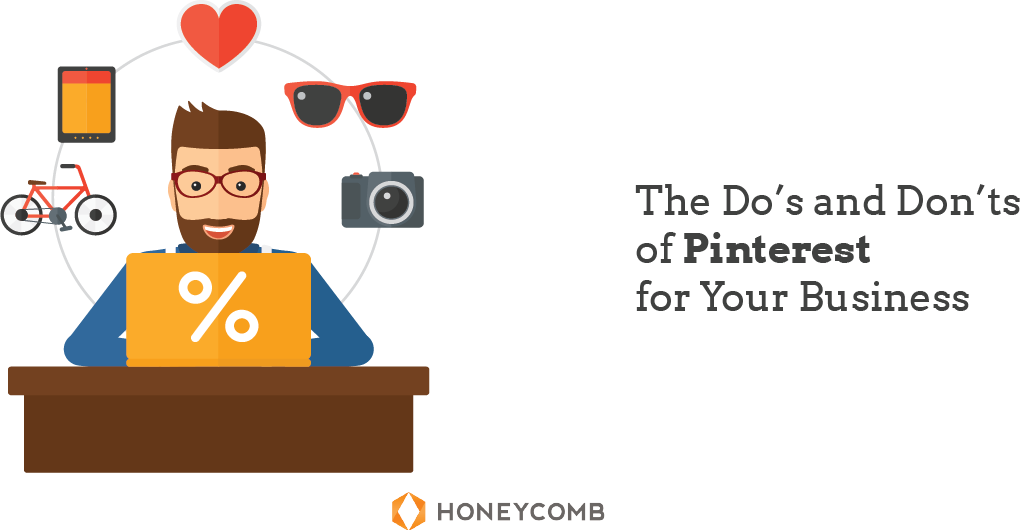 If you've recently decided to use Pinterest to market your business - awesome! You'll be joining the 100+ million pinners out there in the social media universe. And almost half of these Pinterest accounts are from outside the U.S.; good to know if you're trying to market internationally.
But how do you get your pins to stand out from the rest? What can you do with your boards to ensure that your brand is recognized and brings you qualified leads and customers? Well you'll be pleased to know that using Pinterest for business marketing isn't complicated at all! Just pay attention to our list of do's and don'ts and watch your numbers grow.
DO have a strategy
Just like the rest of your social media marketing campaign, you'll want to have a strategy for Pinterest. This is where you get to share your brand voice visually, so think about how you want to portray your business with images to the rest of the world. And speaking of images, make sure that you have high-quality photos on your Pinterest boards that look great on a mobile device, too. Over 75% of Pinterest usage takes place on a mobile device, and the Pinterest audience is super visual, so make sure and draw them in with top-notch pins!
DON'T pin too much
While we as marketers always want to shout the benefits of our services and products from the rooftops, we don't want to inundate our audience. Keep to pinning about 5-8 images a day. More than that, and you risk having people unfollow you. If you've got loads of pins that you want to share, save some in a secret board and then make them public at a later time.
DO consider your target audience
This sounds obvious, but you really want to pin from the perspective of your buyer personas. Beyond just having a board about your company, have a few boards about your buyer personas' pain points and post what they have a hard time finding. This will add value to their search and make them more likely to pin your content, and keep coming back for more!
DO use CTAs
Pinterest allows marketers to use direct CTAs in the description of a promoted pin, so take advantage of this great tool! Use action words like "sign up today" or "download the free guide" but stay away from being too salesy. The Pinterest audience is generally on the site for appealing imagery and creative ideas, not to see tons of ads. And just make sure you don't use CTAs in the image, as Pinterest doesn't allow it. Keep it to a brief, easy to read link in the image description.
DON'T confuse your audience
Have a clear, visually stunning profile so that your audience knows it's you. You might even consider getting your profile verified by Pinterest so that pinners know it's you. And when it comes to naming your boards, don't get too creative. Come up with literal names for your boards so your pinners can easily find what they're looking for: "Healthy Recipes" is better than "Yummy for My Tummy"!
DO link your pins
Make it easy for your audience to link to your site - they may want to buy from you instantly! Did you know that 93 percent of Pinners (male and female) shopped online in the past six months? And a study from Shopify showed that people referred by Pinterest are 10 percent more likely to make purchases on e-commerce sites than users of other social networks, and they tend to spend twice as much as those referred by Facebook. Wow! Always link your pins back to the original source page to boost traffic back to your website or blog and double check that those links work.
DO add "Pin It" buttons
And put them everywhere! On your blog, on your website, in your newsletter. Make it easy for your followers, readers, and fans on your other social media account to pin your content to their boards. Doing so helps your pins gain visibility and increases their chances of getting repinned by your followers' followers. Pretty cool, huh?
DON'T forget about keywords
In this world of social media, keywords can help your brand get noticed, and noticed by the right audience. Take the time to optimize your Pinterest account with relevant keywords. Boards, pins and profile descriptions are all great places to add your company's keywords to help your Pinterest account pop up in search results.
DO get active!
Join community boards, repin, and engage in the visual conversation that makes Pinterest a unique social platform. Community boards are a great way to stay in front of pinners who share an interest or are in the same industry. And repin other users' content. Repinning not only increases the chance that another user will repin your content, it keeps your board from looking overly self-promotional in front of your followers. Just make sure you are engaging with other content and boards that resonate with your brand and stay in line with the image you want to project to the Pinterest universe.
So take a look at Pinterest for your business and make sure you're doing the best job to get your pins in front of your target audience!