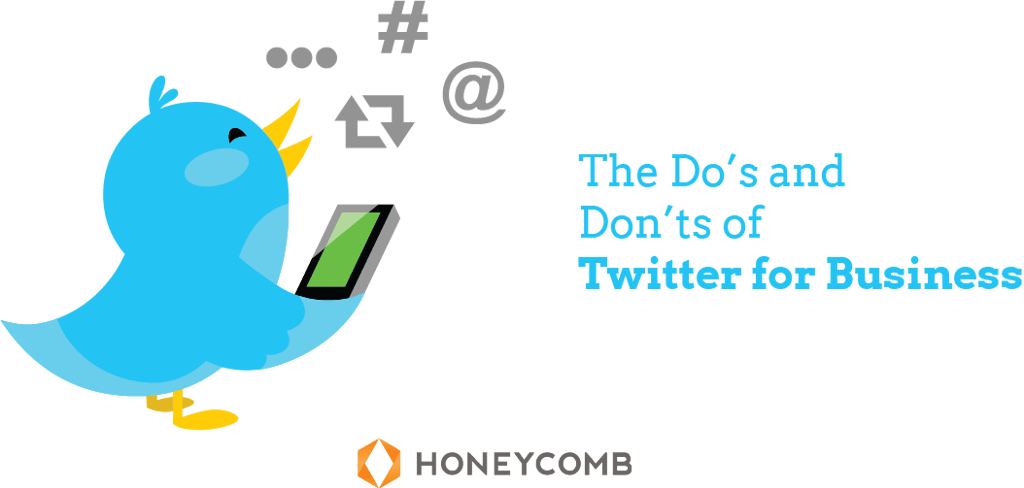 If you want your business to be well-represented on social media (and who doesn't these days?), make it a point of getting a Twitter account set up soon. You'll be able to keep on top of business trends, industry news, and share your own business ideas with the world. Here's some compelling stats:
Over 75% of Twitter users follow small businesses to get product updates (Twitter.com)
Half of Twitter users are more likely to visit a company's webpage if they follow them on Twitter (Twitter.com)
85% of followers feel more connected with a small business after following them (Twitter.com)
67% of Twitter users are more likely to buy from the brands they follow on Twitter (MediaBistro)
So why don't you become one of those businesses and start upping your Twitter presence today! Using Twitter for business will bring you more leads and qualified contacts when you use it properly. Let's take a look at some do's and don'ts.
DO have a profile image.
When you sign up for Twitter, make sure you change the default profile image. Don't leave it there and confuse potential customers. Instead, use your company logo as your profile picture. It makes the account easy to recognize and creates brand awareness. Twitter recommends a profile image that's 400 x 400 pixels, so get one that fits and is easy to see.
DON'T USE CAPITALS
Unless you want everyone to thing you're shouting all of the time. Use caps for emphasis, but don't overdo it.
DO be consistent
Your image, header, pictures, and all background designs should reflect your brand image. Be consistent with your marketing on Twitter so that customers know what to expect from your company and brand.
DO retweet content
The great thing about Twitter is that you can engage with other accounts and see what people are saying and share this content with your own followers. If you're following quality accounts, feel free to share interesting stories and links that are complementary to your brand and audience. Again, stay consistent and retweet content that is relevant with your audience.
DON'T only retweet
As good as it is to retweet and engage, you want to also share your own content. If you're using Twitter for business, you'll want to share your own business blog posts, links to webinars, offers for e-books, or whatever quality content you have in your arsenal. If you're only retweeting other people's content, you're not establishing your brand and company as a trusted source. And when people retweet your content, give them a shout out and say thanks if you can!
DO monitor keywords and trends
Use hashtags and lists to keep track of what's trending in your industry. Then use those to promote your own content. Doing this ensures that you're in the conversations that matter, and the ones that your buyer personas are paying attention to!
DON'T forget to edit
The worst thing you can do is send out tweets with typos or glaring grammar mistakes. With only 140 characters to use, you've got to be careful with your message because mistakes are easy to spot in short tweets. Have your social media team follow some guidelines on what is appropriate and make sure someone on the team is responsible for last minute edits.
DO monitor your account
Customers are now using company's twitter handles to get their attention and will turn to Twitter when they are frustrated and can't get a hold of a customer service rep by phone. Make sure you monitor your feed so you can respond to their inquiries and put out those fires in a timely manner. Don't ignore these negative messages; instead use it as an opportunity to show how your company provides great customer service and cares about the customer journey!
So now that you've got a few guidelines to follow, get out that smartphone and start sharing your business with the world!