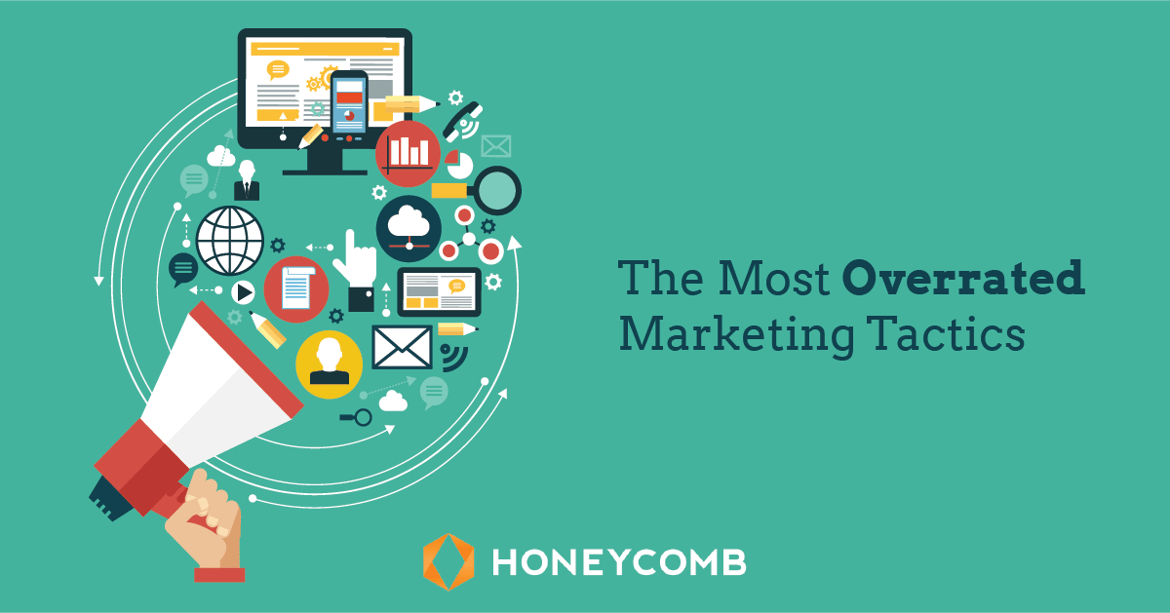 As marketing professionals, we have a ton of options when it comes to putting together an effective marketing strategy. But this is a bit of a blessing and a curse: which ones do you choose? Before jumping right in and spending a huge portion of your budget on a mailing campaign or a Facebook ad, it's best to understand some of the most overrated marketing tactics and what you can do instead. Take a look at our top 3 and see if you're using any of these...and possibly change up your game!
1. Print Ads
More and more people of all ages are conducting business online, so a typical mailbox is often a mixture of birthday cards, political proganda, and print advertising. Can you guess which of these end up in the recycling bin? That's right and this is why print advertising is becoming one of the most overrated marketing tactics by marketers as well as the general public. Quite simply, direct mail is hard to track. Unlike an email marketing message that you can analyze open and clickthrough rates, a direct mail piece could end up in the trash, in the wrong mailbox, or sitting on someone's desk long after your promotion has ended. If you are going to use print advertising, use it to supplement your online efforts and personalize the content with the information you have in your contact management system. This is much more efficient and you can effectively make the necessary adjustments to increase conversion rates and get real customers, instead of spending money on paper and postage.
2. Broadcasting
While Super Bowl ads are a testament to the power of a television commercial, you need an insane budget to run these types of ads and it's hard to track if consumers really bought your product because of what they saw last night on TV. And the number of live TV watchers continues to decline as video-streaming services such as Netflix, become the preferred home viewing option of choice. A study by Deloitte in 2015 showed that over half of American households prefer the streaming services. That number is only going to increase since the study showed that for consumers age 14-25, 72% cited streaming video as one of the most valuable services. Beyond the dwindling numbers, broadcasting's ROI is almost impossible to track since it's a marketer's guess if a television commercial or a billboard inspired a consumer to buy.
3. Pay Per Click
Online outbound marketing tactics like pay per click, or PPC, are actually great ways to get more leads if it's in your budget. But you'll want to be smart about it and use PPC ads in conjunction with your inbound marketing campaign. Millennials typically have "banner blindness" and although this group is online most of their waking hours,
you'll want to do social advertising and have a good organic social presence as much as you do PPC. According to a recent study by Telefonica, 57% of this powerful consumer demographic uses search engines to find information on just about everything and a little over half of this same group said they also use social media when trying to get information about products. So don't rule it out altogther. Just make sure you're doing it right. When done right, PPC ads can play an important role in giving your content a more prominent stage - reaching new customers and retargeting current ones. Studies by Hubspot show that users who are retargeted to are 70% more likely to convert, so take some time to make sure that you're using PPC ads the right way.
So what to do instead?
Among marketing professionals in a worldwide survey from Hubspot, the least overrated marketing tactics are content marketing and blogging. If done correctly, it's easier to measure their ROI and make real-time changes to your marketing strategy when things are or are not working. Spend some time investing in your content marketing strategy and brainstorm on some ideas for your blog. If you're not convinced on the idea of a blog for your company, take a look at these 10 stats that prove the value of having a blog on your website. Whether it's through your social media presence or an email newsletter to your contact database, spreading the word about your blog and content is one of the best marketing tactics that you can employ. Investing time and money in this strategy instead of some of the more overrated, and possibly outdated tactics will prove to be a more efficient and profitable use of your resources.