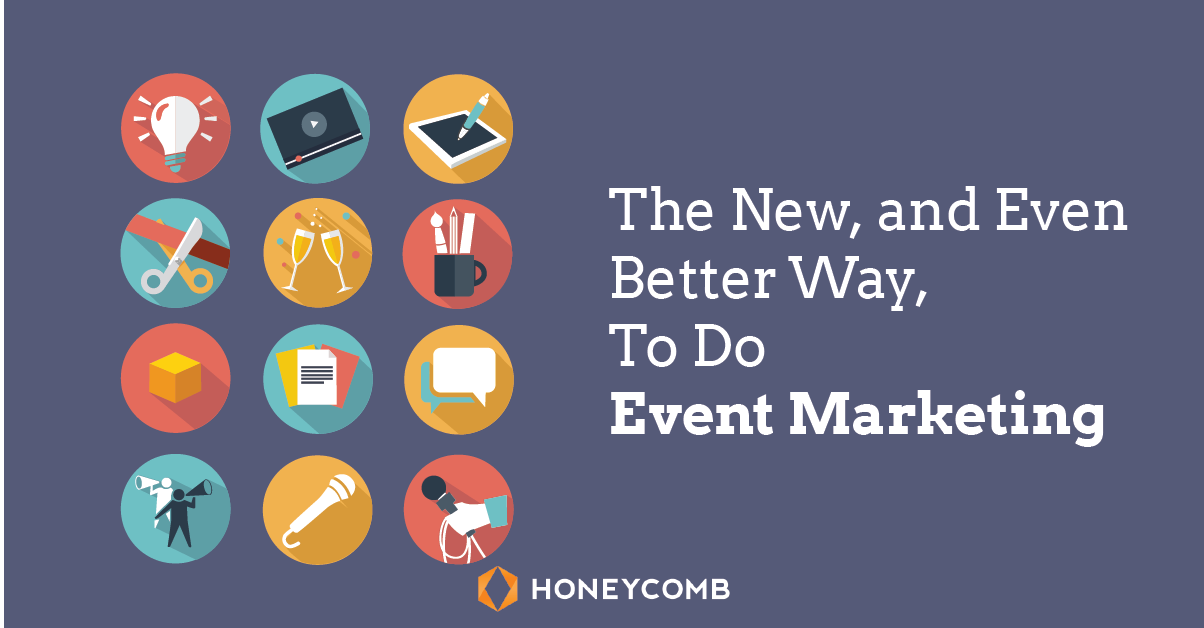 You've spent time securing a great venue, coordinating speaker panels, and fine-tuning a dynamic agenda for your next event, but how do you ensure that the right people are going to show up to your event? No matter if your event is a technical conference, a film festival, or a travel expo, you'll want to take a look at some new and improved ways to do event marketing to get the right people registered.
1. Remarket using Facebook
Hopefully you've built a good Facebook following by showcasing your brand through photos, blog posts, and industry updates. Now is the time to turn that follower base into event attendees! One of the great things about using Facebook for business is that you can create custom audiences and remarket to people who may have visited your event website, but didn't register. This is called remarketing, also known as retargeting. Maybe a reader heard about your event through an ad banner that you had on an affiliate website and then visited your page to check out event details. But they didn't register on that first visit. Maybe because they had to check on travel dates, work conflicts, budgets, or any number of other reasons. Don't lose them to the cyberspace maze!

Remarketing can be a very effective strategy for event marketing because data shows that for big ticket events like a conference or a convention, people rarely buy or register the first time they hear of the event or see the news about the upcoming event. When you remarket using Facebook, you can advertise your event to prior website visitors, while excluding those Facebook users who have already purchased a ticket. We like that!
2.Blog about it!
Plan ahead and weave in some blog posts into your content creation strategy about your upcoming event. Put the focus on the purpose, goals, and any educational elements of your event. This creates value for your readers and eventually drives traffic and new registration. Your posts can feature interviews with speakers, some history of the venue or location, and even provide a mini-itinerary about what there is to do in the city where the event is being held. And as with all of your blog posts, add social sharing buttons at the bottom so that your readers can share the information with their network. It's a great way to reach even more potential attendees that you might not have had the opportunity to come into contact with!
Also, consider giving your blog readers a bonus with an event specific CTA. You can offer a direct reward, a prize, a premium, or something that they can redeem there at the event that other attendees wouldn't have access to through regular registration channels. This element of exclusivity for your blog readers makes them feel valued and encourages them to register early!
3. Use multimedia
Of course, you'll want to supplement any print marketing efforts with any and all forms of multimedia that speak to your audience. Engage them with videos! The multimedia experience of a video provides a unique opportunity to convey the energy and excitement of a live event. Dynamic visuals and catchy audio are a winning combination that drives registration. Use testimonials from previous attendees, footage of the location, and interviews with conference speakers and/or performers. This multimedia part of your campaign also creates engagement opportunities when your fans share it with their followers and friends!
So where do you put your videos? Well, while Youtube has a huge audience and is a top search engine, Vimeo offers more control over your brand since there's no ads distracting from your video message. And definitely share those videos on your Facebook page! Studies from Socialbakers reported that Facebook videos achieved a 10 times higher viral reach than YouTube links did. Pin your video to the top of your Facebook page so that it gets maximum exposure, too! If you've got a good following on Instagram, add some 15 second clips of your video to gain new followers and attendees from that social channel, too.
4. Give it some life!
Bring your event to life for people who can't be there, but may still want to learn more about your brand and company. Use GPS, real time event tracking, and social media to allow anyone to participate virtually, while watching and seeing the event in real-time. Use your social media accounts like Twitter to build a community around your event and create an event specific hashtag that makes it easy for attendees and fans to follow minute to minute event happenings! For attendees who are there, have them participate in on-site scavenger hunts, photo contests, and virtual reality demos and then capitalize on their experience and excitement. Encourage them to share and send in content and provide a button for them to immediately tweet or post when they land on your page.

And don't forget about all of those event sponsors, speakers, vendors, and affiliates. Tag them in any social promotion that you are doing before and during the event. This cross promotion allows you to reach a whole new base of potential customers and attendees. Pretty cool, right?!?
5. It ain't over...
While all of the booths have been taken down and everyone's gone home, there is still a way to have significant and meaningful consumer engagement long after the event is over. Hopefully you captured contact information during the event and created opportunities for one-on-one direct engagement that allows your attendees to have a better sense of your brand and company. If you've done this step right, you should be able to continue the relationship when the attendees are back home. Create some targeted workflows and outreach so that you can maximize your marketing outreach and event attendance. And definitely share footage from your event so that you can start building excitement and planning your next event marketing campaign!