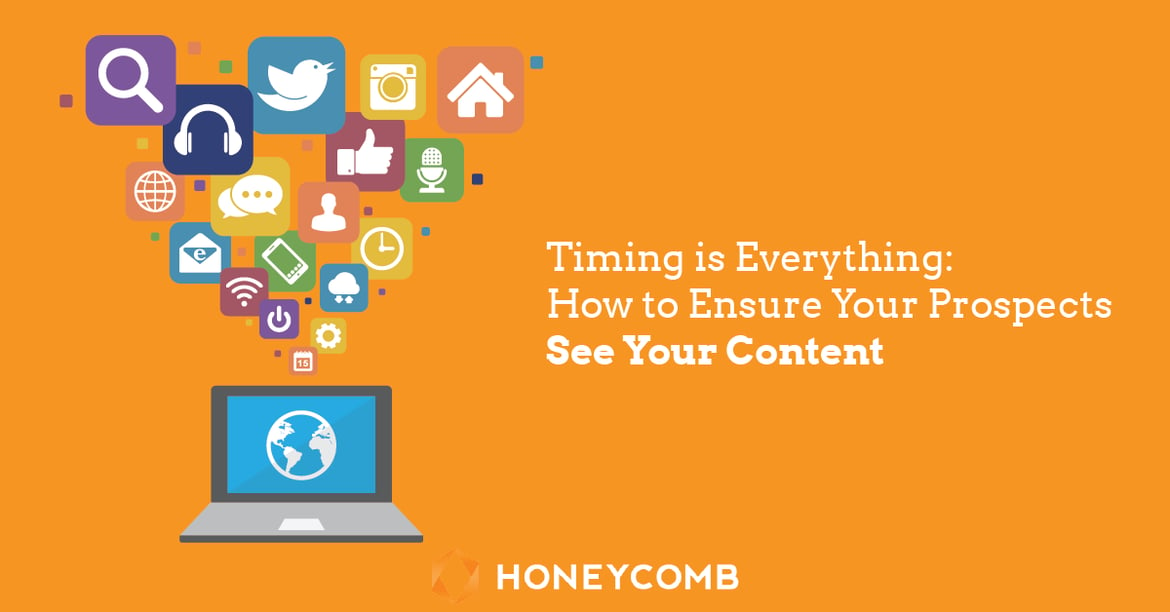 So you've written some awesome blog posts, created a compelling webinar, or put together a cool slide deck. Well, sorry to break the news, but your job is only half done.
Content doesn't get an audience just because you put it on your site. You have to promote it - and at the right time!
Did you know that only 26% of marketers invest in content distribution? And an even smaller percentage of these marketers know the right time to promote their content. In fact, timing your social media messages often depends on different factors like the social platform you're using, how often your target customers interact with that platform, the time zones or regions of the world that you're targeting, and even the tone of your post (e.g. funny, intimate, or informative). Spend time understanding your buyer personas and learn how to ensure your prospects see your content so that you can earn some true customers from your content marketing efforts.
Show me the data
Your reporting tools should give you great insight as to how engaged your prospects were with your recent marketing campaign. Use that data to identify the content that actually spoke to your prospect. Where are most of your prospects coming from: LinkedIn, Facebook, or Twitter? Once you know this, you can decide when to post for maximum exposure. For example, if you are using Facebook for business to promote your content, it's good to know that Facebook's heaviest interactions are in the afternoon(EST) towards the end of the week and on weekends. Or if your prospects are active on Twitter, some software tools will generate a report that will show you which times of day your tweets had the most engagement. Once you know these times, you can import them into whatever scheduling software you're using. Being data-driven is a much more efficient, strategic approach than just randomly scheduling posts. Data is your friend when it comes to social media scheduling!
What's trending
If you're using Twitter to reach your audience, take a look at what hashtags are trending. Do you have a holiday promotion coming up that you think customers and prospects might want to take advantage of? Then use hashtags like #giftguide or #valentinesday, or whatever holiday is coming up to get your message and content found by potential leads. Time your tweets and make sure to use the proper hashtags for maximum exposure. You can also use industry relevant hashtags and browse through competitors' streams to find other people using hashtags that might help get your content discovered. Since Twitter tends to have heavy use during the middle of the day on weekdays, try to schedule messages around this time. And definitely spend some time doing a brainstorming session to decide on the best hashtags for your buyer personas and marketing goals.
Automate it
Of course, if you're marketing your content across different platforms, which you definitely should, then you'll want to automate your social media messaging. With the right predictive tools, insightful reporting, and behavior analytics, you can offer your prospects and customer base the most relevant content items at the right time. Use your software to time content marketing for each buyer persona and at every stage of their individual buyer journey. For example, if you're using LinkedIn, which targets professionals, you'll want to have some messages hit in the early morning hours, which are a heavy traffic time for this social site. Automating these messages ensures that your content is getting seen even if you're not in front of your computer at 7 a.m. pushing send!
Friendly reminder
We're all busy people and may have missed a tweet or two while tending to our professional lives. Who hasn't favorited a tweet and then forgotten to come back and read it a few days later when you have the time? Well an easy and helpful tactic to remind forgetful prospects is to send out a friendly reminder on Friday, which is a peak day for social media interaction in general. Say something like "in case you missed it" and encourage your readers to take another look. Send out messages like this around 3 p.m.(EST), which is the time of day that tends to have the most click throughs. Use this opportunity to highlight some of the week's best content, or share a weekly newsletter that wraps up some of the ideas and trends from the previous week.
Now that you know more about timing your messages, get working on your content creation strategy and watch those leads come in around the clock!